Celebrity-mom, Marcia Cross (Desperate Housewives) really knows how to protect her little one from the harsh rays of sun. Wearing a wide brimmed hat or cap is one of the best ways to protect (you and) your infants face and neck from any exposure to sun.
The American Academy of Pediatrics (AAP) recommends keeping babies younger than 6 months out of direct sunlight.  It doesn't matter if baby has light or dark skin, infants need to be sheltered from skin-damaging UV exposure.  Besides wearing wide-brimmed hats or caps, apply chemical-free sunscreen to exposed areas.  If you are cruising in a stroller, remember to keep the canopy up.
Remember to be safe while enjoying the outdoors…your baby will love you for it!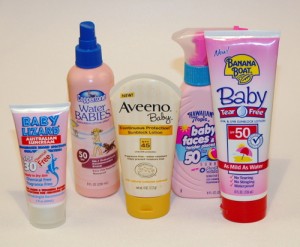 Remember to talk to your Pediatrician first before applying!