If you happen to be preggers or know someone that is, check out Pretty Pushers, the disposable, super soft, delivery gowns.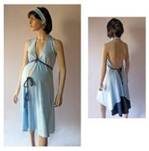 Gift set includes: A Dressed Up Delivery Gift Set (Yellow or Blue), $34
– One halter style gown made from 100% light weight cotton.
– Matching headband to keep hair out of the way during labor.
– One lemon water towelette for a refreshing polish before the big push.
– One get ready to rub heated massage oil, to ease tension during childbirth.
– One picture perfect sheer pink lip gloss with mirror to prepare for photos!
Available at maternity retailers nationwide and online at: