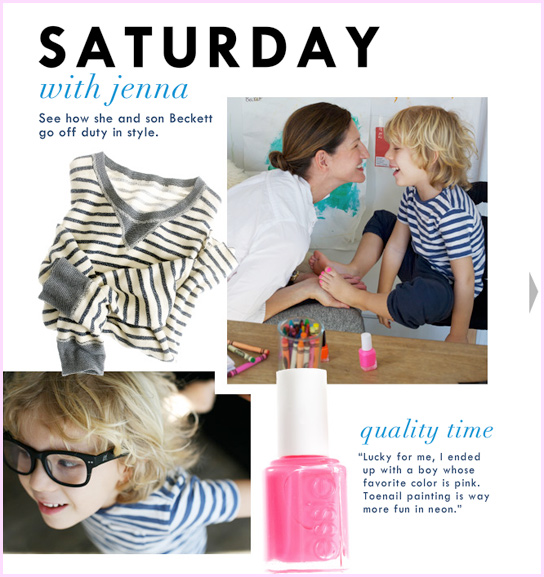 MommyPoshers, let's hope that is not the latest trend in parenting – ok, before you become judgmental of this craze with celebrity moms and their sons, let me explain where it all began…the newest ad campaign from our fellow friends at J Crew shows a top designer painting her son's toes pink!  The ad reads "Lucky for me, I ended up with a boy whose favorite color is pink.  Toenail painting is way more fun in neon." – ok, now you can begin with the judgements.  I'm all for expressing yourself, but this seems a little too much for me.  In doing my research, I began to realize that this trend is not new for many celebrity moms.  Singer, Gwen Stefani and hubby, Gavin Rosedale's son Kingston, 4, has been photographed getting manis and pedis (and not with clear topcoats either). It appears that he goes for the multi-colored look!
I like to think of myself as a fashion forward mom, but this is not one trend that I am jumping the band wagon on…are your ladies?
Also, Miz diva herself and People's Most Beautiful Women in the World, Jennifer Lopez is another celebrity mom who paints her son's nails. "Because for him, it's just paint," J.Lo tells People magazine of her 3-year-old son, Max, with Marc Anthony. "He's like, 'I want the blue!' Then Marc is like, 'Why are Max's nails painted?!' But he won't sit still so it's only like two nails."
Um, am I the only one not really feeling this look???!  Are you a fan of painting your boy's fingernails pink or even blue?