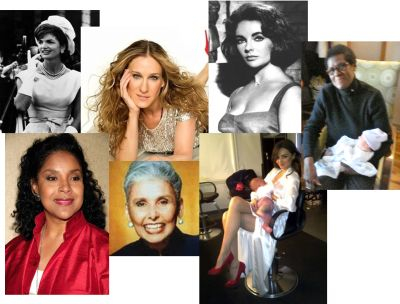 Moms aren't suppose to be hip, stylist or even sexy when it comes to fashion, so thinking of your moms wardrobe and even lack there of brings to mind "mom jeans", food-stained shirts and dry, frizzy hair, but as a Mom myself I am here to tell you differently…
Remember, moms are just regular people, before being a mom, we are females and what female doesn't love fashion?
So in ode to Mother's Day this Sunday, I thought of what moms over the years has had an impact on my take on fashion, family and love.
Here's my top picks on the oh-so-stylish moms:
Jacqueline Kennedy (Wife to our 35th President, JFK).  Not only was she the youngest First Lady but raising young children in front of the world, takes strength and courage.
Sarah Jessica Parker (Actress, "Sex And The City"), if you have learned anything from me, know this, I am a true SJP fan.  From her sense of style, business sense, maternal instincts and overall appeal makes her my a true Mama-ista!
Elizabeth Taylor (Actress). "I've been through it all baby, I'm Mother courage." Need I say more!
My Mom (Single parent and first time Grandmother).  This is a women that has always believed in me. She has raised me to love myself and others.  Thanks for always believing in me no matter what crazy idea or thoughts I may have had.
Phylicia Rashad (Actress, "The Cosby Show").  Who didn't want Claire Huxtable to be their mom?  She was smart, beautiful, sassy and loving. A true iconic figure in the black culture.
Lena Horne (Actress, singer).   She is the mother of Black Hollywood.  At the age of 80, Horne had this to say about her journey, and her sense of self: "My identity is very clear to me now. I am a black woman. I'm free. I no longer have to be a 'credit.' I don't have to be a symbol to anybody; I don't have to be a first to anybody. I don't have to be an imitation of a white woman that Hollywood sort of hoped I'd become. I'm me, and I'm like nobody else."
Miranda Kerr (model and first time mom).  She brings a whole new meaning to multi-tasking, she is seen above breatfeeding her nearly 4-month-old son, Flynn, as she fulfills her professional obligations.
Who tops your MOM LISTS?