Wanna look like a hot mama during a night out with the gals? or look uber-sexy on date night with your hubby? well, here are some sure fire tips that works for everyone:
Take it from one POSH Mom, Halle Berry, she always looks flawless.
BREATHE AND SUCK IT IN: Body slimming undergarments are key to keeping any jiggle in check.  Having your jiggle flare all over the place is not a good luck.  Try Spanx Power Panties Shapwear ($25).  Trust me its a life saver.
FIT IS KEY: No Mommy Jeans here.  Yes, comfort is key, but defining your curves (yes we all have curves) will ensure eye catching results. Dress or sleeves too long? head to your local tailor or try double stick tape
CARRY AN EMERGENCY PROP KIT: A small makeup case with key essentials is a must for everyone.  Lipstick, mascara and safety pins are perfect for any fashion mishaps.
REMEMBER THE BASICS: You can never go wrong with a black pencil skirt, leggings, and a simple tee.
DEVELOP YOUR OWN STYLE: Know what works for you.  Trends aren't for everyone…work with what you got!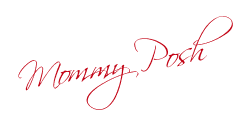 Did you enjoy this article?