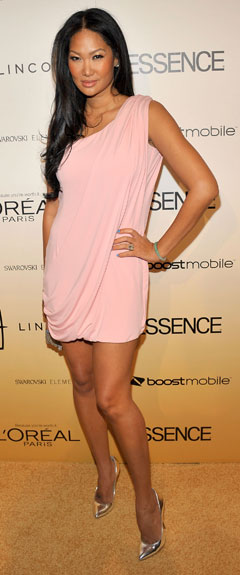 The CEO of Baby Phat, Kimora Lee Simmons, 35, is under a lot of scrutiny these days, not for being a mother, wife and entrepreneur, but for her new svelte figure.
Check out: Kimora Lee Simmons Family Tree
"Six months ago, I was a size 10…and now this other story is throwing sensational salt on me, saying that I'm anorexic!" says Simmons about her 25 pound weight loss.
"That story quotes me as saying 'I don't eat.' Well, I had said, 'I don't eat bags of Doritos and cheeseburgers like I used to,' but the writer ended the quote at, 'I don't eat.' That's irresponsible reporting. It really upset me because it's not at all my message, and I want people to know that. I'm first and foremost a mother and a wife, and I'm raising three kids." Simmons continues saying.
This month, Simmons is set to launch her sixth fragrance called, Luv Me, a fruity floral scent that is targeted to 16-to-24 year olds.  Simmons hopes to send a positive message to young women facing peer pressure or social injustice.
As for the 25 pound weight loss that sparked the eating disorder rumors, Simmons says a good old fashion change towards healthier eating and more exercise is what gradually did it for her. Simmons reveals it took two years worth of lifestyle changes after having son Kenzo Lee Hounsou to accomplish the feat.
Check: How to lose weight after giving birth
Luv Me by Kimora Lee Simmons ($28)