As you know, I love reality TV, but since being a mom it has became more and more difficult for me to kick up my heels, drink a glass (ok, bottle) of wine and watch my favorite tv shows, but since getting connected with Verizon FiOS a few months ago, I have been able to watch it all and blog whenever and however I want, unlike those other cable companies.
My friends at Social Moms joined forces with Verizon FiOS (TV and Internet) and wanted to hear from Moms on ways Verizon FiOS has made a difference for us Moms.  That's easy, where would MOMMY POSH be today without Verizon FiOS? nowhere, fast! Verizon FiOS has made it easy for me to become your everyday resource for all things POSH.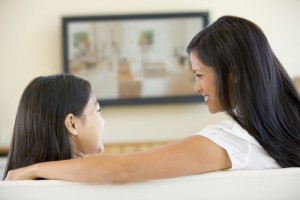 Here's a few more reasons why Verizon FiOS has become a life saver in our home:
VERIZON FIOS HAS COOL APPS:  I can't live without my gadgets, I rely on my iPhone, iPad and PC for all things mommy related, so when I learned that Verizon FiOS has launched a remote control app, I just couldn't believe how lucky I was to be a Verizon FiOS Mom and Mommy bloggger. Verizon FiOS Mobile Remote,

not only controls your TV, but you are able to manage your DVR from ANYWHERE! So there are no excuses to miss that show that everyone is talking about because you are cleaning baby spit-up.

MULTI ROOM DVR

:

What would I do if I wasn't able to tape the programs that I am sure to miss or shows that are just inappropriate for my toddler to watch with me? Once again, that's where Verizon FiOS comes in, I am able to watch it all with its Digital Video Recorder (DVR) during my leisure in the bedroom while my husband watches another show in the den (where the DVR is located).

HIGH SPEED INTERNET

: Moms are expected to do it all while stilL looking POSH, so with the help of Verizon FiOS and its high speed connectivity I am able to write my post, upload family photos, pay bills and look for the latest recipes in record speed lighting.

SOCIAL MEDIA WIDGETS

: I can easily stay connected with my Facebook friends and update my Tweets with a click of a button.  My husband would say that the Sports Widget is his fav. New widgets seem to appear everyday so its hard keeping up with this awesome tool. You have to see it to believe it!

VERIZON FIOS HAS SPROUT ON DEMAND:   When the weather is bad or we are just having a lazy Sunday, Verizon FiOS "On Demand "is a mom's best friend.  My toddler loves anything on Sprout TV

and now with a click of a button, my toddler can watch

"Nina and Star"

,

"The Wiggles"

and even

"Sesame Street"

24/7.   Verizon FiOS new motto should be called "24/7 television"….Verizon folks are your listening???
Don't have Verizon FiOS and looking for 100% customer satifisation (ok, that's another reason) then look no further, just connect with Verizon FiOS to see if it is offered in your neck of the woods!
More info on Verizon FiOS click here.

Follow @Verizon on Twitter
**********
Disclaimer:I wrote this blog post while participating in the SocialMoms and Verizon FiOS sponsored blogging program. Any views, opinions or experiences expressed are my own.