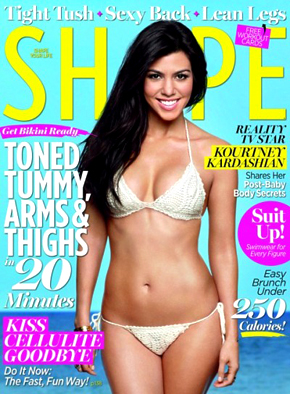 Little Mason Dash is almost two years old and mom Kourtney Kardashian still has insecurity issues about her post-pregnancy body….really? could've fooled me, Kourt looks amazing as she graces the June cover of Shape magazine.
See Kourtney endorse the Belly Bandit
"I think everyone focuses on their stomach," the 32-year-old reality TV star says "After you have a baby, especially, you're like 'Will my stomach ever get back to how it was?' And I don't know if my stomach will ever look the same."
But how does she do it??  "I have to get up at 7 a.m. every day, before everyone else, leave Mason in bed with Scott, and go for a run," Kardashian tells Shape. "Thirty minutes of cardio is right outside my door. My arms already look good from carrying a 25-pound baby around."
PHOTOS: how to lose weight after baby
"I use only organic foods for [Mason], and it made me think about what I put into my body too," she says. "I couldn't sit around eating cookies and expect him to eat vegetables. I've discovered I really liked eating that way."
Take a poll below.