ShāToBu – The Workout You Wear™ – is the first-ever shaper that helps women shape, tone muscle and burn more calories during everyday activities.  Say what? an undergarment said to give women a sleeker silhouette, well this I had to try!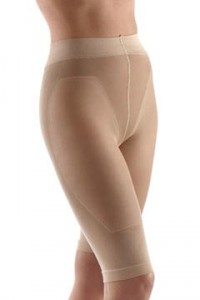 When the folks from ShāToBu reached out to me with a product claiming that it can help me burn calories while shaping my hips, thighs and tummy, I could not wait any longer. Especially since my body is no longer of a 21 year old and a mom to a 16 month old, what did I have to loss?
So is slimming down really as easy as wearing a girdle? Researchers from the University of Virginia seem to think so. "We tested this shapewear garment under controlled scientific conditions and showed that when women wore ShāToBu, the energy expenditure increased significantly during walking, which translates to more calories burned," said Arthur Weltman in a press release for the company.
I was given the waist to knee shaper, $48 to try-on (which is your traditional bicycle short garment). After I broke into a sweat from the grunting and wiggling from trying on the garment (is this the beginning of the weight loss?) I checked myself out in the mirror and was surprised, damn, I looked sexy and skinny!  The shaper rested above my belly, with no feeling of discomfort or tightness around the leg or belly portion, as one would expect from a shapewear.
So after wearing the shaper all day and incorporating it in my daily activities (running errands, going to the gym, playing with my toddler) I soon forgot that I even had on a body shaper as it was very comfortable and fitted my body like a glove.  I also felt like I was wearing resistance, which made me feel like I was getting a overall body workout.  What did suck for me was the bathroom breaks.  Remember when I said that I broke out into a sweat from trying it on? well, I broke out in even more of a sweat after pulling them up after my bathroom breaks. No pain, no gain, right? right!
So after a long day of breaking into sweats, feeling a overall body workout, I did feel 10 pounds thinner with no indent around my middle or leg area after taking it off.
So all in all, this is must-have product!  Its innovative and one a kind.
ShāToBu ranges from $48-$58, thights from $34-$38 and is available at www.shatobu.com.
Pros:  bulge-free, does not roll down, makes you look and feel 10 pounds thinner
Cons:  Can be difficult putting on (worse than putting on pantyhose), you have to wear everyday in order to see accurate results.
*************************
*Disclaimer: No monetary compensation was received for this review and all opinions are those of Mommy Posh ONLY.*