So with my son growing up so fast, I felt the urge to spruce up his nursery..hmm, is it still considered a nursery now that he is no longer a newborn?…anyways, since Elmo appears to be a distant memory and his love for trains, planes and automobiles are apparent, I wanted to do something special for Lil B (finally his name will be revealed below).  After browsing online for the perfect something (not sure what) I later came across a company called Graphic Spaces, they specialize in artsy creations for kids' room with reasonable prices.

My new friends over at Graphic Spaces was not informed of my mommy blog nor is aware of this post, but I just had to give them some Internet love. The creator of Graphic Spaces, Christy Wernet creates such cool vinyl wall decals, room accessories and furniture for kids of all ages. So thanks to the Airplane Boy Skywriter wall decal sticker, his bedroom (yep, no longer a nursery) is perfect for my little man.  The decal set includes the plane, clouds, birds, and everything you need to apply it to your wall – including a surprise gift and how-to instructions. But you must be sure to read the instructions before installing cause once its positioned onto your wall then its there for good.
There's more than airplanes in the shop, Check out Graphic Spaces for a wide selection of removable wall decals.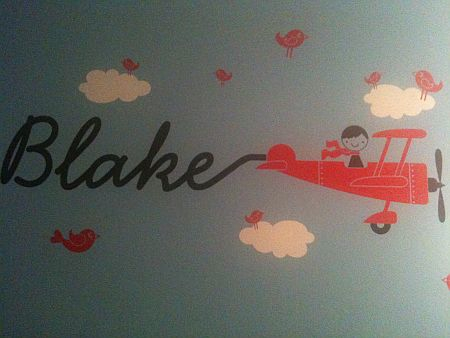 Here's a pic of my son's wall decal