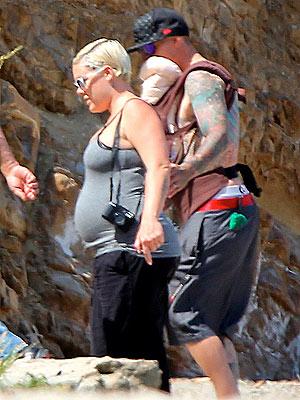 I can't tell you how both happy and shocked I was when this picture had hit the blogesphere.  Its of singer, Pink, her hubby and newborn daughter.  So what, you ask?!
Pink is revealing to us her POST-BABY-PREGGER-POUCH! an image that no other celebrity (even me!) wants the entire world to see.
Only after 5 days of giving birth to her daughter, Willow Sage, she is out on the town and obviously not ashamed of showing us the real body of a women who gave birth.  Sorry to burst your bubbles, moms-to-be, but you need to know the real deal.  You will still kinda look preggers after giving birth, yes even after pushing out your 8 pounder, there is somewhat a "pregnant pouch" this is still very visible..I know, I know, this is not what "they" tell you, but its the truth.
Read: Things "they" don't tell you about being a mom
Sorry Kourtney Kardashian, Tori Spelling, Bethenny Frankel and celebrity moms of the like whom have revealed to us their post-baby abs…great job in getting that six pack, but this is what we really wanna see, its refreshing.