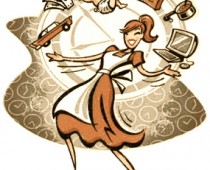 Waking up in the wee hours of the morning and entertaining my active Toddler with daily activities can definitely cause sleep deprivation or "mommy brain" aka forgetfulness, so by mid-morning, mid-afternoon and sometimes even mid-evening you will find me over at my local Starbucks Coffee house for a quick pick me up with baby in tow.  Mmmm, did someone say Venti Iced Chai Latte???!!
So when my friends over at Social Moms reached out to me about the new Starbucks Card Mobile App I was giddy with anticipation and couldn't wait to download it on my iPhone.
With Starbucks Card Mobile App you can use select your smartphone devices to pay for your Starbucks purchases, allowing you to experience the fastest way to pay.  By offering the fastest way to pay in stores, Starbucks is making your morning coffee run even more convenient, giving you more time to get on with your busy day!
Starbucks for Android™ and the Starbucks Card Mobile App for BlackBerry®, iPhone® or iPod® Touch have five core features:
Pay with your phone: Enjoy the fastest, more convenient way to pay at nearly 9,000 Starbucks locations.  Just download the app, enter your Starbucks Card number, scan and go.
Manage your card account: Access your Starbucks Card balance directly from your phone.
Reload your card balance: Use your smartphone to reload your Starbucks Card using any major credit card.
Check your My Starbucks Rewards status: Find out how close you are to earning your next free drink.
Find nearby Starbucks stores: Save time by finding a Starbucks store near you
So now that you have downloaded this cool feature here are few tips that I have learned along the way on how to keep my sanity – for the sake of my family and especially myself:
1.  Keep a journal:  A to-do list is the best way to keep track of your daily activities.  My "mommy brain" still creeps up on me, which I thought was a myth during pregnancy, but geez how its still so easy to forget things.  So by keeping a journal and to-do list makes it easy for my sanity.
2. Ask for help: Yes, its ok to ask for a mommy-helper, its doesn't mean that we can't do it all.  Have an emergency babysitter picked out in advance. Always have at least two go-to people than can bail you out if baby needs to come home, but you can't.
3. Plan date night: You and you partner both need time to recharge your batteries.  Whether its going to the local pizza parlour or catching a flick makes energizing your libidos.
4. Let it go: Moms its ok if you don't fold your clothes right after it comes out the dryer.  Its clean right?
5. When he/she sleeps, you sleep: I know that its easier than it sounds, but taking an hour or 15 minutes can make you feel great.
6. Pay bills online: In this day of technology, everything can be done online.  Paying bills and even purchasing clothes.
7. Get a pick-me-up:  This is where the #Starbucks App comes in handy, by ordering your items beforehand makes things easy for you.
8. Schedule Mom "me" time: Schedule that mani and pedi – NOW!
9. Pass it along: To Daddy that is!  Its his way of chipping in so why not give him a to-do list.
10. Don't Stress:  Its easy as a first time to stress the small stuff, but you are not alone.  By reaching out to other moms your realize that you too share the same things.
****************
Disclosure: I wrote this blog post while participating in the SocialMoms and Starbucks blogging program, for a gift card worth $30. For more information on how you can participate, click here
About Starbucks:
Since 1971, Starbucks Coffee Company has been committed to ethically sourcing and roasting the highest-quality arabica coffee in the world. Today, with stores around the globe, the company is the premier roaster and retailer of specialty coffee in the world. Through our unwavering commitment to excellence and our guiding principles, we bring the unique Starbucks Experience to life for every customer through every cup. To share in the experience, please visit us in our stores or online at www.starbucks.com. Download the Starbucks Card Mobile App Today!
Starbucks on Facebook: http://www.facebook.com/Starbucks