Cribs made and sold in the United States will face the toughest safety standards in the world, the U.S. Consumer Product Safety Commission announced.
Beginning June 28, 2011, the new federal safety requirements ban drop-side cribs, where a side rail can be raised and lowered. They can no longer be manufactured or sold. Hardware, mattress support durability, and slat strength will all undergo tougher testing from the commission.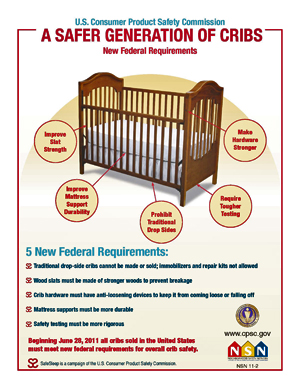 The new rules also apply to cribs currently in use at child care centers and places of public accommodation. By December 28, 2012, these facilities must use only compliant cribs that meet the new federal safety standards.
If you are considering purchasing new cribs that meet the standards, you may want to ask the manufacturer or retailer whether the crib complies with 16 CFR 1219 (the new standard for full-size cribs) or 16 CFR 1220 (the new standard for non-full-size cribs). They must provide this certification to the retailer.
CPSC will be the main agency enforcing the new crib standards. The initial focus will be on manufacturers and retailers since they must comply with the new standards by June 28, 2011.