No matter what the scale says you are sure to look good in these outfits.  So if you are looking to revamp your look here's my top 5 must-have looks for every season:
1. Shirt Dress. A shirtdress looks good on any size, it creates one continuous line. And with the belt, it accentuates curves even more.
2. Spring Blazers. A blazer is a wardrobe staple. It's nearly universally flattering and it can provide an instant touch of cool with minimal effort. It comes in different styles, shapes and cuts – long, lean, oversized, fitted, double-breasted or single buttoned – to complement any closet.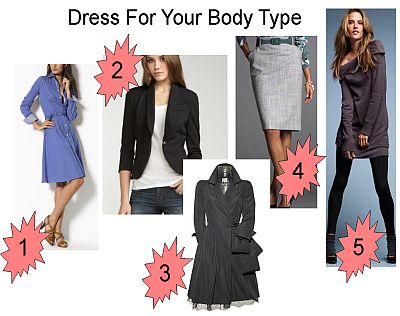 3. Wrap Dress. Take it from fashion designer, Diane Von Furstenburg, the iconic wrap dress is for the everyday woman. The wrap dress continues to be as flattering and curve-loving as ever.
4. The Pencil Skirt. Depending on what part of your body you want to slim down, you can wear the skirt higher on the waist or lower on the hips. By adding a thick belt it can make anyone appear slim especially with a great pair of heels.
5. Leggings.   By wearing a tunic shirt or a shirt that is mid-length can make leggings appear wearable on any body type. Remember that if leggings are worn incorrectly they look just ugly.  For more inspiration See Lindsay Lohan's Legging Collection.