Sorry Miz Parker, but this is by far a fashionista DON'T…the high, stiff hair reminds me of the Cameron Diaz' gel hair look in "There's Something About Mary" (insert chuckle here).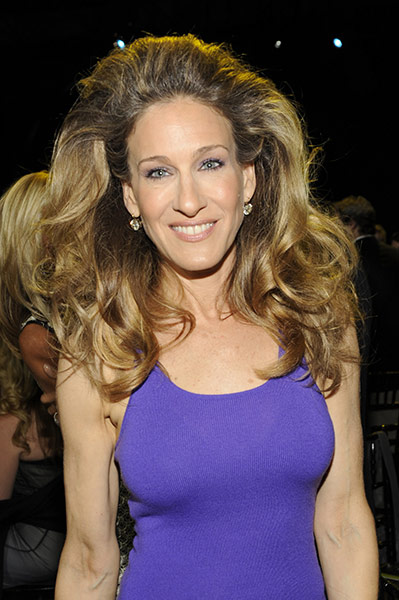 So Mommy Posh teamed up with
Become.com
,
the all-in-one shopping advice site
, to bring to you the best of best when it comes to 
Haircare tips
.
Keeping your hair looking fresh and clean for the summer can dramatically regulate your body's overall temperature, so here's the top 5 cool-hair looks for summer 2011.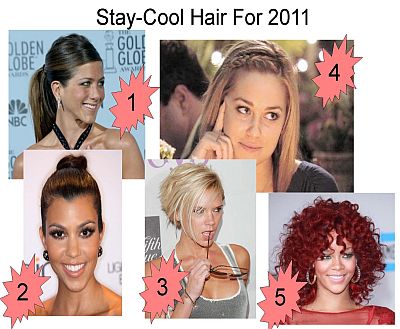 1. Pony Up: 

A ponytail is a styling basic – you can sport it in so many ways – worn on the side, poufed or touseld – which can be transformed from a day to night look.

Jennifer Aniston (pic 1) has been quoted to liking the ponytail look because of the easy breezy-ness of it.  To get the look, apply finishing cream to washed hair before blow-dryingit smooth, gather hair into a medium-height and secure it with an elastic, use pomade on the tail to give it an even more smoother look.
2. Shellac It Back:
Keeping your hair back from your face can instantly keep you cool and keep your skin looking young and fresh.  Slick your hair up like
Kourtney Kardashian (pic 2).  The key to getting this smooth style? While hair is wet, pull it super-tight, and use hairspray and serum
for that extra smooth look.

3. Short Do: This look is the most popular hairstyle compared to other hair styles in terms of style and versatility.  A short hairstyle is easy to manage and feels really great on the nape of the neck.  Victoria "Posh Spice" Beckham (pic 3)has gotten away with her many looks with her short-do, from sexy to sporty. Generally frizz is a lot more visible in short hair. If you want to tame frizzy hair, the best choice is to use glossy anti-frizz serums and products that create a shiny effect.  Chic bobs and trendy pixies can easily be styled every day in order to get rid of frizz and create a wonderful, sleek hair.
4. Texture:
Looking for a new do to try out? Try adding some texture and fun.  Celebs have been rockin' the side braid lately – the flirty hairstyle that's both cute and easy to do!  We've seen our favorite Hills gal,
Lauren Conrad (pic 4)
wearing the braided look all throughout
The Hills
season.
5. Curl it up:
Most people think you can let curly hair go and it'll be fine. No way!  Take it from me and Rihanna (pic 5), curl-listas of the world.  I can't say how many products I have in my bathroom cabinet promising to tame my frizz or to give me bouncy curls.  So with the right hairstyle and cut, good hair care and the right products (by trial and error), I can come and go without my hair being an embarrassment.

For more of your haircare needs, shopping directory and price comparison check out Become.com
.