As I browse my favorite sites I came across this great list of celebrating things you like about yourself.  In the end, I found the source of where it all began and had to join in on the fun. Elena from Ciao Mom is doing a series on Reclaiming Me and I absolutely love this concept.  Being a mom is a selfless act and we tend to forget ourselves in the midst of doing it all.  So by reclaiming yourself and knowing your worth join in on the fun and post your own list of things that you like about yourself.  
And now the list…Things I Like About Me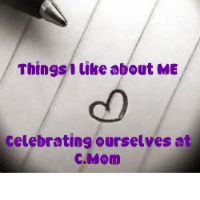 I like that am willing to try anything once.
I like that I am actually a great mother. LOL..Being a mother seemed like a foreign place for me, but now that I have my son there are no words to expressed this unconditional love.
I like that I can forgive people.  I don't believe in keeping grudges, its a waste of time, especially when the other person is enjoying their life.  Besides life if too short.
I like that I can love hard and have had no regrets for doing so.
I like that I am a city girl.  You can't pull the wool over these eyes..LOL.
I like that I have continued my love for blogging.  Its been 4 years and counting. So how am I doing so far?
I like that I am creative thinker.
I like that my husband and I can still make each other laugh.  Not everyday is a bed of roses, but through whatever bumpy road we may come across we are in this together.
I like that I can take criticism.  This can be a hard thing to do, but you learn and grow and become a better person because of it.
I like taking risk.
I like that I can make someone feel comfortable in just meeting them in the first five minutes.
I like that I can speak my mind and appreciate it when I get it in return.
I like that I am biracial and so is my son.  It use to bother me when strangers would stop me in the street and ask me if I'm the Nanny, but now I just find it funny (see #3) .
I like that I have curly hair

.  There were times that I wished for straight locks, don't we all wish for what we don't have.  But I learned to embrace my versatile hair.  
Wow, now I feel like I can conquer the world…ok, now its your turn.