Hi Mommy Posh,
My husband's work wardrobe consists of grey pants and striped dress shirts, even for casual Fridays. What pieces do you recommend for my man to wear on these casual summer days so that he looks trendy, but yet corporate?
Thank You – Erica via Ask Mommy Posh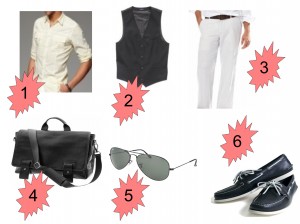 Erica,
Dressing for your man can be tricky, some men don't like thinking outside the box when it comes to fashion.  So by telling him how sexy he looks and how he'll stand out in the crowd (in a good way!) he just may transform right before your eyes. Just by adding a few cool/trendy pieces to his wardrobe can update his look for the summer.
So here's a few pieces that I think every women should buy for their man:
Cool Clothes:
1. Cotton Shirt by INC International ($40)
2. Vest by American Rag Vest ($50) 
3. Linen Dress Pants by Dockers ($30) 
Accessories:
4. Leather Work Bag by Banana Republic ($198)
5. Aviators by Urban Boundaries Eyewear ($3) 
Shoes:
6. Boat Shoes by Crocs ($72)