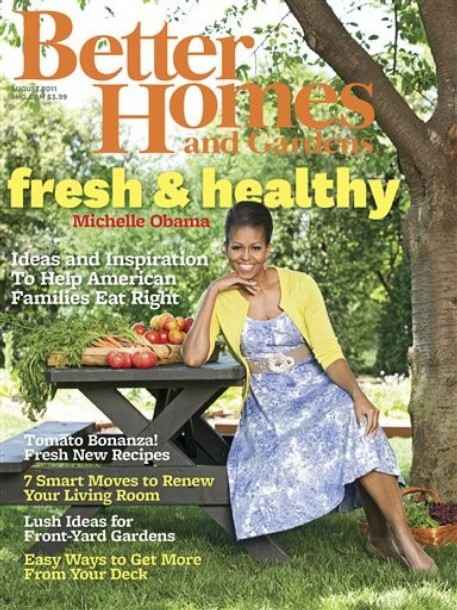 First lady, Michelle Obama, glows on the cover of the August "Better Homes and Gardens" issue…and she has every right to.  Appearing on the magazine cover was an historic event for Obama and the magazine, she is the first public figure to grace the cover since 1963.
The August issue features a smiling Michelle Obama sitting at a picnic table on the White House lawn. She's wearing a blue and white floral dress and yellow sweater.She reveals in an interview that after moving into the White House she was not as active as she had been—and reveals her clothes began to get tight.
Mrs. Obama reveals in the interview:
"Ironically, her more constricted life has made it harder to follow her own advice about staying on the move. "I became more sedentary," she admits. After her first year at 1600 Pennsylvania Avenue, she was surprised that her body had changed. "I realized that some clothes were getting tighter," she says. "I didn't know what was going on." She has increased her time at the gym, and now banters with her husband–"I always tease him I'm in better shape than he is." She laughs. "I can do longer workouts. He's the President." Their physically active lifestyle is also an implicit signal to their daughters. "Ultimately kids emulate what they see. You don't have to make a lecture if you're living it. We don't talk about working out, we just do."
The decision to put her out front came from an interest in her healthful-eating initiative, said Gayle Butler, editor in chief of the magazine. "Last year, research with our readers showed this really high priority moms have when it comes to healthy eating," Butler said.
The issue is on newsstands now.