Is it date night? Need a mom"me" moment?  Planning a girl's night in? No matter what your plans are, enjoy a tall glass of wine, sit back and hit the play button on your DVD remote and watch the most romantic movie of 2011 thus far.
The classic-romantic novel, Something Borrowed, written by Emily Giffin shines on the big screen. It revolves around longtime friends Rachel (Ginnifer Goodwin) and Darcy (Kate Hudson), whose relationship gets complicated when Rachel has an affair with Darcy's fiancée. As the wedding date nears, Rachel explores the meanings of Friendship, True Love and Ethics.
Something Borrowed is coming to DVD on August 16, 2011!
Read: Picks For Summer Reading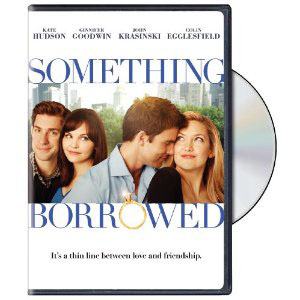 Now for more good news! A GIVEAWAY! Warner Bros. is offering one lucky winner a free DVD copy.
MANDATORY ENTRY: Take the relationship test, post your relationship do's and dont's on the comments below and for additional entry follow me on Twitter and tell me there, as well!
**winner will be chosen using Random.org on Friday, August 26 — giveaway is open until midnight on Friday**