I am pleased to bring to you Barbara R. Greenberg, Ph.D, a teen parenting expert and co-writer of the hit book "Teenage as a Second Language: A Parent's Guide to Becoming Bilingual."  She is also a respected speaker, avid reader and loves all things related to physical fitness.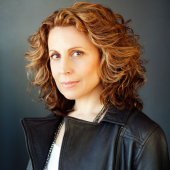 Barbara Greenberg and her professional partner, Jennifer A. Powell-Lunder, Psy.D, have set up an interactive website for parents and teens to listen, learn and discuss hot topics and daily dilemmas. You can find it at www.talkingteenage.com.
Does Your Teen Make You Frumpy, Lumpy & Crazy?
Let's face it — once you have kids you are never quite the same. You chop off your hair so that you can wash and wear. Much of the affection that you reserved for your partner is now lavished on your offspring. Your body is exhausted by caring for the kids, so it becomes less about sex and more about nurturance.
Time passes. Your babies grow into toddlers.  Your hair has grown a bit and is now usually up in a ponytail. If you go to the grocery store you can usually identify the moms of toddlers by their look. It's usually a ponytail, a little lip gloss, jeans, and an easy to slip on pair of boots or flip-flops. Moms of little kids still maintain something that mothers of teens start to feel that they are losing. I am talking about CONTROL. You have control over little kids' play dates, schedules, activities, and appointments. Let's face it – there is some comfort in control.
Fast forward to the teen years. While you may have let your hair out of the ponytail and may have more time to do your own thing you are probably nonetheless a different sort of person than you ever imagined.
Consider the following examples:
A very playful and social woman learns that her 16-year-old son has kissed a girl. She literally begins to take a poll at the grocery store to see if this is normal among 16-year-old  boys. This very competent and highly-functioning woman has suddenly lost her feelings of confidence and is worried sick that she has raised a sex-crazed kid.
This woman's lovely daughter hasn't returned her call. It's been fifteen minutes. This mom calls me. She is convinced that her daughter is in danger. I talk her through this. She calms down. Her husband is several hours late, but she does not appear to be that concerned about him. Her daughter arrives home while she is asking me about the possibility of accidents, suicidality etc. Her daughter does not have a history of depression.
The school bus is late. The mother calls the dispatcher to find out exactly where the bus is. The bus arrives five minutes late and this mother is ready to have a drink. She does not have a history of alcoholism.
So, my question to mothers is… what do you think happens to us when we have kids and teens? Do you have a story that you'd like to share?