Yay! Congrats! Welcome to motherhood…but let's get real, no one told you how the YOU that you once were – the party you, the one that liked lazy Sundays and even the polish you – would be buried underneath frazzled hair, stained t-shirts from baby spit-up, sweats and a body that feels that it was invaded by the body snatchers.
Trust me, you are not alone.  Once you and baby are on a schedule – things will soon fall into place.  But first things first, throw away that oversized tee, get your hubby to babysit, put on a glossy lipstick and go SHOPPING!
You may feel self conscious about the changes to your  body, yet different doesn't have to mean bad. The trick is learning how to flatter and flaunt the new version of you.
Related Post: The Illusion of Looking Skinny
Here are a few looks and tips that are sure to make you feel and look comfortable yet stylish.
Avoid: A Flimsy jersey, cotton or silk, it will highlight every bump.
Look For: An empire waist maxi dress draws attention to your neckline away from the stomach.
"A spray tan and spanx works wonders"
Look For: Dark colors, they hide the midsection.  A black wrap dress works like magic.  It accentuates your new curves, especially your every growing decolletage.
Look For: A tunic top and leggings are the perfect pieces for a comfy and stylish look.
In case you need more style inspirations, take a look at these MOMMY POSH celebs: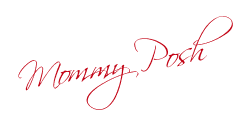 Did you enjoy this article?