Today's guest post is from Laura Cecil, a writer for Livesnet.com, a site where baby products are reviewed. Laura has great recommendations on ways you can protect your mobile child inside your own home.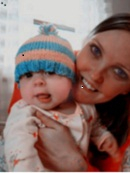 Protect Your Mobile Children
The good news for parents is that the infant will become mobile and more independent after an age of about six months. Unfortunately, that's also the bad news. Once the child become mobile, everything in the home will be interesting to him or her; everything will present some sort of danger. This is definitely the time to protect the child against these lurking household dangers by buying a few safety devices.
Stairways are always a problem. If your home has direct access to either the top or bottom of a stairway, you can be sure that the baby is going to want to climb. You'll need one or more good baby gates to keep the baby off from the stairway. One gate that is highly recommended is the Evenflow Top of Stairs Plus. This gate is securely mounted using screws; it can be painted or if you prefer stained to match the decor of your room; and it is less expensive than other gates of similar quality. The baby will find it nearly impossible to open the gate. Even adults must practice in order to open it readily.
Babies are drawn to electrical outlets for some reason. Outlets are extremely dangerous. One mistake can take a life. Spend a small amount, only a few dollars, to ensure that the baby never has a shocking experience. Buy a package of electrical outlet plugs. There are about three dozen to a package. Make sure that every unused outlet has one of these plugs securely installed. They provide cheap insurance and peace of mind.
Cabinet doors and drawers are another great attraction. Babies are curious. If they see you open a drawer of a cabinet, they are going to want to try it. If they are not protected by safety latches, the baby can get into some serious problems with household chemicals and sharp objects. Every day some child is injured by pulling a drawer out so far that it falls out on him. Install a safety latch on any door or drawer that can be reached by the baby.
Convincing a child at the toddler stage to sit in a car without squirming around is a lot like trying to teach a dog not to wag his tail at dinner time. It will never happen. Once the child has become too big for the infants rear-facing car seat, a convertible car seat is a must to protect both you and the child when you are on the road. There are many manufacturers of excellent high quality and safe car seats, and most of them are going to be costly, but the protection that it provides for the child is priceless. The Britax Convertible Car Seat is highly recommended by consumer groups and by parents who have used them.
Babies need exercise. Most of the trouble that they can get into results from their need to move and explore. An exersaucer has solved the problem for many parents. You can place the baby in it where he or she is surrounded by interesting toys that move and sway. The baby can spend a considerable time enjoying the experience. The greater benefit, however, is to the parent. The exersaucer remains stationary wherever you place it. It's not a place where you would place the baby for long periods of time, but it does provide a place to provide the parent with a short respite from baby care while doing other things.
Infants don't really need a lot of toys, at least for the first year. You've undoubtedly experienced friends or family at Christmas or birthdays, where the infant tears of the wrapping paper with glee, and shows more interest in the box in which a gift comes than in the gift themselves. After the first birthday, it's time to introduce safe soft toys to the child. Soft blocks are great for developing motor skills. The baby can stack them, throw them, and knock them down without injury.
These are just a few of the things that can help the baby to grow safely, and to keep the parent sane throughout the process. A few involve a justifiable expense for safety, but most are relatively inexpensive. It's all part of the joys of parenthood.
******************
Laura Cecil is a writer for www.livesnet.com, a site for baby products reviews and tips. She loves to make reviews on baby bestsellers and shares her parenting stories. She would like to connect with you on Facebook (http://www.facebook.com/livesnet). Please read her lastest review on Britax best rated convertible car seat and find out why she loves it the best.