After chasing after an active toddler each and every day, heels are usually not an option, so having to wear heels during yesterday's Independent Fashion Bloggers Conference my feet could not wait for an escape – fast!.  So, thanks to the folks over at Kushyfoot products, my feet were singing "Alleluia".  Seriously, I even heard them.
Kushyfoot sent me over a pair of their foldable, stashable Flats-to-go®  and lace foot covers for review and they couldn't have come at better time. Its claim to fame is that they offer "affordable, purse-packable and elegant relief for weary feet"….and its all that and then some.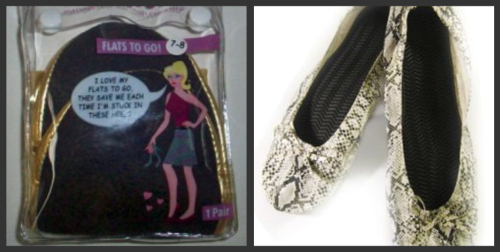 With its cute easy-to-carry purse packaging, it didn't take up any space in bag. When I change from my heels to Kushyfoot, its cushion insoles gave my feet instant relief.  Also, with its stylish fabric and color (seven great colors to select from) it blended perfectly with my outfit.  It also claimed to work perfectly for indoors and "smooth" outdoor surfaces. So be warned, if wearing this product on your city streets, as like I, you will feel every pebble and crack, which is a minor downfall to this product.
Nonetheless, it is definelty worth it, prices range from $3.99 – $9.99! Kushyfoot can be found on Amazon.com or online at www.kushyfoot.com.
What tips or advice do you recommend for instant foot relief?