The wait is finally over and the reviews are in for my results of Crest 3D White 2 Hour Express Whitestrips.


As a reminder, here's where I left of…ok, now to the application…the instructions were very easy to understand and I had no trouble applying them. You peel the strip from the clear plastic, press the gel side against your teeth and tuck the extra part under your teeth. So 2 hours later and voila…whiter teeth? I did only notice a slight difference, but then around day 2-3 I began to notice a HUGE difference.  It got whiter and brighter.  Teeth senstivity also lasted for about 2 days.  The inclosed handout did mention temporary tooth and gum discomfort, so this, I was expecting.  So, all in all with the impressive final results with no dentist appointment needed, the teeth discomfort was worth it. 
The end result was great, but for me not immediate, as indicated.  It was a great reveal – day 5 – during my blogger conference though, I did feel great while speaking with my new blogger friends, I had no longer felt ashamed of my coffee-stained teeth and was camera ready!
A box of 4 whitening doses cost about $54.99.  Not a bad price pay for 3 months of whiter brighter teeth.
Take a look for yourself at my before and after look: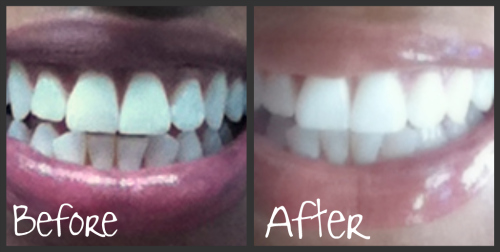 Because I love this product so much, you to can reap in on the benefits of a brighter, whiter smile.  Check after the jump how you can enter to get your FREE box today!
MANDATORY ENTRIES:
Retweet this message on Twitter: Get a brighter, whiter smile #Win from @mommyposh Crest 3D 2 Hour Whitestrips #giveaway http://bit.ly/ozKDlA
LIKE me on Facebook and mention this entry!
**winner will be chosen using Random.org on September 22— giveaway is open until midnight on Thursday**