Today I am linking up with Aisle to Aloha on "it's the little things" week. What a great way to celebrating life's little treasures…
The little things that made this week oh so special . . .
Zumba Fitness
 – I am a total fanatic of this dance workout. I may have two left feet, but once the music kicks in I don't care how uncoordinated I may look.  Laughing at myself also make this dance workout even more enjoyable 
Girls Night Out
 – Can't wait to indulge in some mom"me" time tonight…oh how I need it!  
Fall
– Yay, not only is it boots season, but since having a baby it now means prep for Halloween costumes, apple picking and drinking apple cider  
Ryan Gosling
–  I loved him in
"The Notebook"
and now this weekend I am going to enjoy him in
"Drive"
..oh those abs, that smile, need I say more 
Season Premieres
 – My DVR is on overload…from NBC Thursday nights to ABC's
Dancing With the Stars
…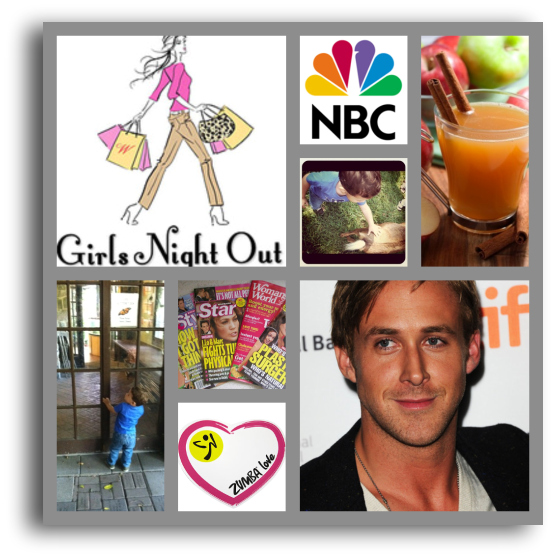 Lil B – My son has taught me that taking chances is not always a bad thing…its ok to be adventous and to try new things…because of him I no longer take things for granted Glossy Mags – This has to be my most guilty pleasure every week Being One With Nature – Lil B and I ended our busy week with a bang by visiting our local nature center, he got a chance to pet and feed the animals and do arts and crafts with other kids.  Watching him explore new things just makes my heart sing.
There you have it…. I am committing to doing this every Friday, so be sure to keep stopping by…if you want more on me and my "little things" that I am loving, stop by on my Facebook Fan Page.