Taking the kids to the playground is not only a great way to release your child's energy, but its a great way for us moms to show off our latest 'casual' fashion finds. Casual is key here…pumps, short shorts and heavy makeup are not be worned at the playground, keep that for date night. Stick to casual but fashionable wear.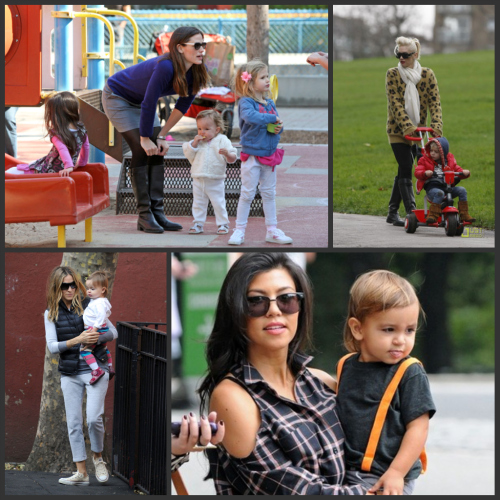 Take it from these POSH mom – Kourtney Kardashian, Sarah Jessica Parker, Jennifer Garner and Gwen Stefani – they know how to look tre casual, but yet fashionable, when seen strolling around with the best accessory ever – their children.
Here are a few pieces that works every time:
Bottoms: Boyfriend jeans and leggings always look great when out and about.
Tops: With fall right around the corner, a simple white tee paired with a cashmere sweater or vest can make your look stand out amongst the other moms
Accessories: Scarves, shades and a fedora are must haves!
Shoes: Riding boots or simple Tory Burch flats looks great with leggings and a pair of jeans.