I am pleased to bring to you the newest segment called "Posh Mom Of The Week". Each week we will bring to you a mom that signifies overall POSHness, a mom that reveals real stories and experiences that celebrate, entertain and inspire the woman, who is a mom.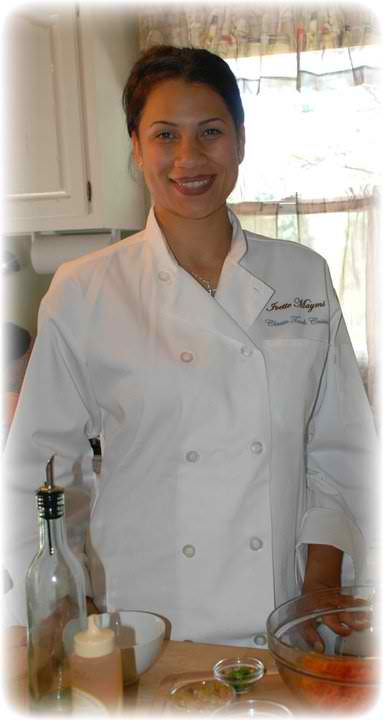 My first guest, I am proud to say is my Friend, as well as, a Mother, a Wife, a Caterer and a Promoter of Health and Wellness, Ivette Maymi. This POSH mom chatted with me about how she inspires others to become fit and healthy with the success of the Body by Vi 90 Day Challenge, the launch of her food blog, her family, kitchen must haves and easy breezy recipes (that even I can follow).
MommyPosh: Tell us a little about yourself. Your family.
Ivette: I'm 39, happily married for 6 years and I have two beautiful children, Cailyn 13 and Caleb 2. I manage my husband's financial services business, run my catering biz, and work with an amazing health and wellness company. I LOVE to cook, read, dance, sing, relax with my family, and travel.
MommyPosh: Tell us about the launch of your new blog – Healthy Is the New Delicious?
Ivette:  I designed the blog to show people how to stop thinking negatively about healthy food. Healthy food IS delicious. There's a way to prepare your meals using substitutions or even different preparation techniques that bring about the same satisfaction as if you ate the fattier counterpart.You CAN eat delicious food, GUILT FREE!
MommyPosh: When did you discover your love for healthy cooking?
Ivette: Honestly, I was never a "healthy" eater. I pretty much ate whatever I felt like eating. Once that caught up to me, I realized I had to make a change. When I lost 30 lbs. earlier this year, I realized that I didn't want to just lose the weight, I wanted to change my lifestyle. I started preparing dishes that tasted just as good, if not better, than their fattier counterparts, and thus began my love affair
MommyPosh: Tell us about your healthy lifestyle philosophy?
Ivette: I don't believe in dieting. I found out the hard way that you can diet and restrict yourself until you're completely miserable and if you don't make a change in your eating lifestyle, you'll gain the weight back. I yoyo-dieted on and off for 2 years before I found the health challenge that changed it all for me. I never struggled with my weight before. I modeled when I was younger. So the low point for me was developing gallbladder disease. According to the doctors, I didn't fit the profile for someone who would get gallstones, but I knew that my careless eating contributed to it. I had emergency surgery six months after my c-section and it led to a lot of depression. I just couldn't get fit and the doctors warned me about exercising.
MommyPosh: Tell us about your 90-day challenge success?
Ivette: I got wind of the Body by Vi 90 Day Challenge from a contact in Facebook who was helping me with marketing ideas for my catering. A year later, I noticed his post about this 90 Day Challenge he was promoting. I was intrigued and so after looking over the information, I figured I'd give it a try. I had tried everything else with little or no success and I liked the idea of only doing it for 90 days because doing a health program for the rest of my life was less than appealing. I was skeptical at first, but in 90 days I lost 30 lbs., 9 inches off my waist and dropped 5 pants sizes! I had struggled with digestion ever since my gallbladder was removed, so being able to finally process food was amazing! I also liked the fact that I wasn't adding to my already tight budget, but instead reallocating money I was already using to purchase "less than healthy things" and putting it towards pure nutrition. As a chef, sampling and taste testing was a part of my day, so this program helped me figure out how to teach my body how to eat to live not the other way around. It took careful planning and much thought to create healthy dinners after replacing my breakfast and lunch with the nutritional shakes and I looked forward to the challenge of coming up with dinners that were less than 400 calories. Thus, the healthy division to my catering business was born.
MommyPosh: The healthy-living entrepreneur and reality star Bethenny Frankel recently mentioned that her 15 month old daughter is a vegetarian. As a mom and as someone who promotes healthy eating, what is your take on this and why?
Ivette: Well, everyone is different. Each parent will do for their child what they feel is in their best interest. Personally, I have taught my kids, even my 2 year old, how to eat just about everything as long as it's prepared in a healthier way. I encourage my kids to have leaner cuts of meat and I don't feel like I need to deprive them of that because as growing children they need to eat from each food group. I teach them to eat in moderation and they have a very well-rounded palate. They enjoy turkey sausage and turkey hotdogs on occasion and lean turkey or chicken burgers. They also indulge in the occasional sweets…I just find healthier ways to present them. I try to stay away from boxed mixes and take the extra time to make cakes and cookies from scratch because I can substitute at will and control the amount of sugar that goes into their treats.
MommyPosh: What is your dish of expertise?
Ivette: Well, I pride myself on my turkey lasagna. Friends and family simply love it! I use fat free or low fat ingredients, substitute ground pork for ground turkey or chicken and always use my homemade pasta sauce. It's worth the extra time you take to prepare your own sauce, and in the long run its actually more cost-effective. My low fat pumpkin cheesecake is also hit, especially now for the Fall when friends make requests for it to give out as gifts for the holidays.
MommyPosh: What are your kitchen must-haves?
Ivette: A great chef's knife. The sharper the better. A sharp knife reduces the risk of injury and will slice through an onion so neatly and efficiently you won't have time to cry! I love my Calphalon sauté pans. Nothing sticks to them. And cornstarch is a must. It's a great way to thicken sauces without having to resort to the heavy creams all the time.
MommyPosh: What easy breezy recipes can you give moms who do not know their way around the kitchen, like me?
Ivette: I think chicken breasts are a very versatile cut of meat and they can be used in tons of ways, from salads, to breaded in whole wheat panko crumbs. Look to my blog in the near future for my take on quick and healthy family meals. This Fall I will be launching the delivery service from my catering business. I'll be posting a weekly menu that I will prepare at a state-approved kitchen and delivering it to local families. It's just me for now, so I'll be reaching only certain areas in Westchester, but I hope to expand in 2012. I'll keep ya posted!
MommyPosh: Who and what are your influences? And why?
Ivette: My husband, Jay. Honestly, I ate terribly when we first married. He would joke when I'd order at a restaurant by grabbing his heart and making a ridiculous wheezing sound. He'd say "Honey, you're killing me just by making me watch!" Well, through him I discovered a love for whole grain and whole wheat products and he challenged me daily to come up with something healthier for the family. So I did. I finally got around to writing down these family recipes and I make them available for my catering events.
MommyPosh: In one word, how would your family describe your cooking?
Ivette: "Superb" from my husband and "Yum!" from my kids.
MommyPosh: If any, which celebrity "foodie" do you most relate to?
Ivette: I'd have to say I'm a cross between Ellie Krieger and Giada. I still offer the "richer" foods to my clients because that's what they ask for. But now, I give them the option to order the lighter versions.
MommyPosh: Do you think your kids will pass along your recipes to their own families when they get older?
Ivette: I believe so. Caleb is showing early signs of wanting to be a chef, lol! And Cailyn misses my cooking whenever she's away at youth retreats or soccer tournaments. To have your food appreciated on that level is great, and I don't believe they'd let it end with them. I know when they're off to college or to start their own families, Mom's cooking will always bring them back!
MommyPosh: What's a typical day of eating like for you? Your family?
Ivette: Well, for me breakfast usually comes in the form of my Visalus nutritional shake mix. I love the amount of vitamins and minerals I get and the energy it gives me to fuel my mornings. I am always on the run, so it is my meal of choice when I have hectic days and don't want to make a stop for food. Can't beat the nutrition or the price! For my family, my husband usually fixes himself an egg white omelet with whole grain toast and coffee and my kids, usually pancakes or oatmeal with fruit or yogurt. Lunch, I usually have a salad on the go or a shake. My daughter eats lunch at school and my son eats breakfast and lunch at daycare 3x a week. When he's with me, lunch is homemade Mac and Cheese or oven baked chicken tenders, maybe some whole wheat tortellini with peas. Thank God he's not a picky eater. Between me and his daycare provider, he eats plenty of fruits and veggies, quinoa and whole grain pasta or rice and loves his raisins. There's always something good to eat at the Maymi house! I usually start thinking about dinner around noon and that becomes a bigger production for me. You can't match the care that goes into planning a meal for your family. It should start earlier in the day rather than be an after thought when you walk in the door. If fixing something the night before and freezing it to use the next day works for you, then go for it. But make dinner a big deal. It's where family memories are born. It's the one thing your kids will miss the most when they leave home.
MommyPosh: When do you find time to cook?
Ivette: Dinner prep for me usually starts about 4:45pm or so, depending on what I'm making. If I am working from home that day, I try to take an hour around noon (once the baby naps) to prep as much as I can for dinner that day. Weekends are more flexible because my husband takes over with the baby and any other household chores I usually do during the week. Isn't he a saint?!
MommyPosh: Is writing a cookbook in your near future?
Ivette: Absolutely! Like I said, I finally started writing down my recipes and I plan on doing a book geared towards healthy meal options for kids as well as families.
MommyPosh: What foods can't you live without?
Ivette: I'm a big couscous lover. There's so much you can do with it. From tossing it with oven-roasted tomatoes, fresh mint and basil and fat free feta, to making a couscous cake that you can lightly pan fry. It's light and delicious. I usually have whole wheat Israeli couscous and a sun-dried tomato and spinach version in stock at home. It's a quick side that compliments just about any meat or poultry.
MommyPosh: How would you describe yourself as a mom?
Ivette: Wow. Going by the feedback I get from my family, I'd have to say nurturing my kids and keeping them safe above all else is most important to me. I don't believe there is any sacrifice too great to make for your kids. I look at my kids and I say "It's their time now." I don't like the idea of taking away the time I would spend with them because I have to work late hours. My husband taught me that the freedom of my time is more important than anything. I worked in corporate America for many years and missed out on the "firsts" early on in my daughter's life because I HAD to work. I am so happy that I can run a catering business and a health and wellness business right from my computer. I can make money to finance my goals and still be a soccer mom, take my son to play dates, and manage my husband's office. It's a full day for sure, but I love that I don't have to ask permission to go to lunch or on vacation because I am my own boss.
MommyPosh: What's your life motto?
Ivette: I would say it's "Share your blessings". If you're blessed by something in your life, tell others. I like to recommend movies and places to shop or vacation spots as much as the next person, but its when you share those things with others that truly make an impact in your life that I believe your blessing can come full circle. For example, the person who helped me get on this health challenge blessed me with this information because he was blessed. That set so many other great things in motion for me from the weight loss, to becoming a promoter and actually making money while helping others, and later to expanding my catering business. You never know how sharing your blessing will impact the lives of those around you. I tell him all the time, he's a hero to me and I'll always be grateful. Thank you Rick Herbst.
MommyPosh: Where do you like to shop for food?
Ivette: I love Fairway. They have quality meats at a fair price and I come across a lot of unique ingredients that enhance my meals. I like their organic section and the freshness of their produce.
MommyPosh: Do you usually prepare food for the week?
Ivette: Not typically. I don't like to prepare meals too far in advance because it doesn't feel as fresh to me. There are times when I'll make enough to send my husband to work with it for lunch or have some myself the next day. Once a month we have "Buffet night". That usually consists of leftovers from the week that are still fresh and good to eat. I might save sides and just prepare the meat that day. The kids like that they can pick and choose from all the variety. When I get into those rare "I don't feel like cooking" moods, my husband takes over. I'm blessed because he's a pretty fantastic cook himself.
MommyPosh: How and where do you find the best deals when shopping for food?
Ivette: I'm a coupon clipper. I like coupons.com and I always watch out for the circulars. In this economy, a quarter here and there adds up. If there's a store with a really nice sale, I stock up on the non-perishables.
MommyPosh: Lastly, a huge congratulations on your health transformation! Your results are very encouraging. If someone wanted to try the program you did to get healthy, where can they go?
Ivette: Thank you, Gina! For me, the weight loss was a bonus to just getting healthy and seeing my body function the way it was meant to. I'm a Regional Director with Visalus Sciences, the company that promotes the Body By Vi 90 Day Challenge. If your readers are interested in better nutrition, losing weight or even gaining some lean muscle, they can visit my site at www.mrsmaymi.bodybyvi.com and my Facebook fanpage for more info.
Are you a POSH Mom like Ivette? Then Contact me at gina@mommyposh.com to get featured here.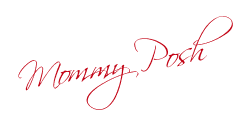 Did you enjoy this article?