Moms, I know how busy you are during this time of year, with getting your kids ready for back to school, scheduling weekend play dates and balancing your household, can leave you feeling frazzled, don't fret, so make an appoint this Fall season to become the hottest Mom on the block, without breaking the bank. Just by adding a few key pieces to you and your baby's wardrobe can leave your neighbors asking "how does she do it?"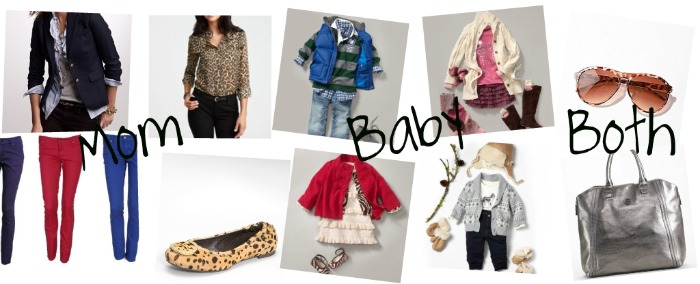 For MOM:
The Perfect Coverage: J Crew's School Boy Blazer is the perfect addition to your fall wardrobe. Just by pairing a blazer with jeans and a crisp white tee, can turn you into a fashion diva. 
Add Some Prints: Anything goes this season with the leopard print look. From blouses to flats, anything goes. Dress it up or down, wear it day or night, leopard prints are verstaile and shoulld be added to your closet this fall season. Try TORY BURCH Leopard Eddie Ballet Flat and ANN TAYLOR Leopard Print Trench Blouse for a complete look. 
Jeans Don't Have To Be Blue: From hot red to cool pink, whatever color you so desire can be worn with just about anything. Try Gap for cool shades to choose from.  
For BABY:
I am a huge fan of Gap Kids, H&M and Carter's for the latest (inexpensive!) trends for both boys and girls. Knit cargo pants, kids Uggs and a fleece lined coat are great starters to ensure that your little one is warm and toasty.
For BOTH: 
Ray Blockers: A pair of aviator shades should be worn by both you and your  baby year round, not only does it make you look cool, but protects those eyes from the ray of sunshine.
Not Your Ordinary Diaper Bag: Just because it does not say "diaper bag" on the tag, doesn't mean you can't turn it into one.  Use a huge tote bag as a diaper bag, as well as, a purse to carry those extra pair of shoes or a jacket for those chilly nights. TORY BURCH Metallic Kellan.