This week's
POSH MOM OF THE WEEK
is not just your typical "mom blogger" with tales of her and her family, but she is a mom that
vlogs
her shopping adventures and shares with us her
OOTD
.
Mimi Scarlett,
32, is a wife, SAHM to her 1-year-old daughter and 6-year-old son. She is originally from Washington, D.C., but now resides in Atlanta with her husband and family. Mimi is the founding editor of 
Lipgloss and Binky, 
a blog that I frequent daily – and so should you – from her great fashion finds from thrift shopping and her weekend wrap-ups are posts that I just can't get enough of. That is why Mimi is this week's feature spotlight: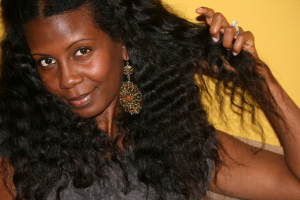 MommyPosh: Tell me about yourself. Your Family.
Mimi: I am a reformed workaholic, turned SAHM. I am quite simple and easy going. I love to laugh and have a good time. My family and friends are very important to me. I spent many years always worrying and stressing. I finally had my AHA moment. Life is to short, I plan to enjoy it. I truly believe everything will work itself out and while your waiting have fun. Some things you can't control, but you can control your happiness. I am the mother of a 6 y.o. a 1 y.o and the stepmother of a 10 y.o. My husband and I met in college. He is the most amazing man.
MP: You are a mom, a wife, and a woman – what do you take most pride in?
Mimi: I take pride in being a woman. I embrace all that I am. Being a woman encompasses being a wife, mom and many other things.
MP: Tell us about your blog – Lipgloss & Binky: The Rants and Raves of a Fab Mom
Mimi: The tagline of my blog is the "The Rants and Raves of a Fab Mom" and it is exactly that. My little corner of the blogosphere is my place to vent and share. I love the people I have met there. The community of women in blogging is amazing. I blog about everything from parenting to fashion, it really is an indication of how random I am in real life!
MP: How are you different from other "mom bloggers"?
Mimi: I don't know if I really think I am much different, but I think I may get out and do more away from my children that some of the bloggers that I read. I enjoy getting out and I'm just really happy that my husband supports and understands that. He rocks!
MP: Where do you shop for your kids?  For you?
Mimi: For my children TJ Maxx, Marshall, Target, Carter's, Osh Kosh, Old Navy, H&M, and Gap are my old faithfuls. For myself, I love to thrift so most of my apparel comes from the Goodwill or some type of consignment shop. Some of my favorites would be Gap, Banana Republic, Chico's, and Macy's if I had to name.
MP: Who is your style inspiration?
Mimi: I love Rachel Zoe's style. I love a simple chic look and I think she does it the best.
MP: How would you describe yourself as a mom?
Mimi: I would like to think I am open minded. I don't obsess over their every move. Life won't treat them the same way when I'm not there. With my daughter I want to lead a life that shows her that when she grows up she can be an awesome wife and mom without losing herself in the process. I hope to teach her that through example. I am very loving and give tons of praise for the tiniest things they do. I hug and kiss them A LOT! My mother did it with me and I remember that.
MP: What's your life motto?
Mimi: Everything will work itself out just as it should. In the meantime, enjoy life.
MP: Fill in the blank: I can't enough of  ___
Mimi: Nail polish. My collection is insane and excessive
MP: Fill in the blank: My signature look is __
Mimi: Classic Chic. I love the basics, crisp white shirt with a little umph added in!
MP: What's next for Lipgloss and Binky?
Mimi: So much! I am learning so much about blogging. I would like to grow the blog in the next year. Obtaining sponsorships and the ability to review and bring useful products to my readers is on my to do list. I also plan to attend my first blog conference in 2012 along with pairing up with other bloggers to hold some events. The sky is the limit.
You can find more of Mimi's rants, raves and randomness on my blog,www.lipglossandbinky.com and on Twitter: @glossymimi.
Each week we will bring to you a mom that signifies overall POSHness, a mom that reveals real stories and experiences that celebrate, entertain and inspire the woman, who is a mom.
Are you a POSH Mom like Mimi? Are you a mom that inspires others? A mom with a blog or company that you would like to promote? Then contact me at gina@mommyposh.com to get featured here.