This week's POSH MOM OF THE WEEK is a MOM after my own heart..she loves reality TV, married to a techie and wrting is her passion…I think I've found my doppelgänger…Ok, you be the judge…Let's welcome Tiffany Fulcher, the Founding-Editor of  TiffanyFulcher.org, a site dedicated to fashion, relationship, cool gadgets and much much more.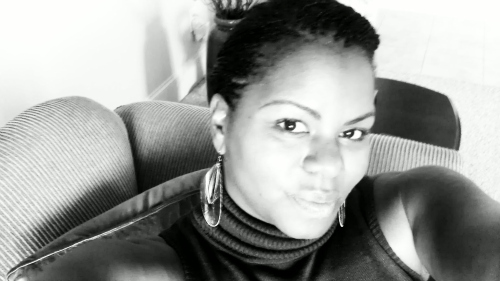 MommyPosh: Tell us about yourself. Your Family.  
Tiffany Fulcher: I am a wife, mother, writer and educator. I write for several outlets, including my blog TiffanyFulcher.org. I am also an instructor part-time at a community college and teach a college writing class. If I were not a teacher and a writer I would probably be in the fashion industry because I love clothes…lol! I also love anything vintage, art, literature, and music. I am kind of like a hippie but I have to be free spirited while wearing Gucci shoes…lol!
I have been married for nine years and have 3 beautiful children. My husband is my exact opposite, a techie with a personality to match. Two girls Sydnei 8 the diva and Symone 16mons the boss who really runs the family and a son Trey age 4 ½ who is Mr. Personality.
MP: You are a mom, a wife, a woman – what do you take most pride in?
TF: I would have to say that I take great pride in being a wife. I thoroughly enjoy the relationship I have with my spouse. If it weren't for his love and support I couldn't be the mother that I am. He knows me so well and takes such great care of our family. I appreciate the opportunity to be by his side as a life partner. He truly balances me out. We are very different but compliment each other quite well. It's an exciting journey!
MP: How would you describe yourself as a mom?
TF: I am very hands on with my kids. I love them dearly and try to be very present with them. I love being in the moment! I spend a lot of time and energy teaching, encouraging, laughing, and playing with them. I want the best for them so I do have high expectations, however I try to reach them where they are individually and not look at them as a collective group.
MP: Tell us about your blog – TiffanyFulcher.org
TF: TiffanyFulcher.org is my baby, I love to write. Recently the site has been more momcentric focusing on subjects most moms will find interesting. I do however write about relationships, religion, politics, reality tv…lol! I write about it all it's my daily musings of life from my perspective.
I was inspired to launch the site when I became a stay at home mom after my son was born. I needed an outlet and started writing. I started reading other blogs and decided hey I can do this…TiffanyFulcher was born. I have been writing every since! Next year will be 5 years…wow time has really flown by.
MP: What advice do you give to other mom bloggers?  
TF: Blog from your heart, this is where the best writing comes from. Set a day to write and stick with it, your audience is waiting to hear from you. Know that what you are writing can really change or shape someone's life words have power. Write really early before everyone gets up or really late when all are in the bed, writing while kids are fighting for attention is just not worth the hassle.
MP: What one "hot topic" post on your site are you most passionate about? 
TF: The article I wrote entitled Guilty by Association would be the hot topic trend for me right now. In the article I discuss how important it is for moms to take time out for themselves without feeling guilty. I cannot stress this enough, as moms, as women in general we tend to make time for the needs of everyone else. We are no good to our families unless we are a complete person, we can't be complete if we spend all of our time giving and never take the time to refuel.
MP: Who or what are you style inspirations? 
TF: Modern classics and vintage inspired styles are my inspiration. There are a few people I would consider when it comes to style, Michelle Obama, Beyonce, Jessica Simpson, Kim Khardshian, Jada Pinkett Smith, Demi Moore.
MP: What stores can you always find bargains at?
TF: Being a lover of classic and vintage inspired clothing I tend to shy away from chain stores. I love shopping at boutiques!  However if I had to pick one I would say New York and Co. They are always having a sale!
MP: What one product you CAN'T live without? 
TF: M.A.C. bronzer! It is my staple item on those mornings where I don't put on any makeup but need a little pick me up when running errands and such.  It warms the face and gives a glow without really trying. Paired with lip gloss and sunglasses…amazing!
MP: What's your life motto?
TF: If you change the way you look at things, the things you look at will change. Try to see everything with your eyes wide open.
MP: Fill in the blank: I am obsessed with ___
TF: Reality TV
MP: Fill in the blank: My signature look is _____
TF: Modern classic with a touch of sex appeal
For more on Tiffany, follow her Twitter and if you are not yet a follower of her blog, then do so today on www.tiffanyfulcher.org.
***********************
Each week we will bring to you a mom that signifies overall POSHness, a mom that reveals real stories and experiences that celebrate, entertain and inspire the woman, who is a mom.
Are you a POSH Mom like Tiffany? Are you a mom that inspires others? A mom with a blog or company that you would like to promote? Then contact me at gina@mommyposh.com to get featured here.