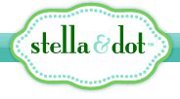 I recently teamed up with one of my favorite fashion bloggers, Jeanette over at J'sEveryday Fashion to host a Stella & Dot ONLINE trunk show!
The jewelry is designed by celebrated New York designers, featured in Gossip Girl, InStyle and Lucky Magazineworn and adored by E! reporter, Guiliana Rancic and The View's Elizabeth Hasselback.  
Not only are these items great year round, but makes a perfect holiday gift….so let's get to shopping!
This offer runs from 12/16-12/30. 
Simply follow these steps:
1. Go to http://www.stelladot.com/sites/jspage to make your purchase. You must use this link!
2. During checkout, look for the green box in the upper left corner prompting you to "Search for Your Hostess." Click the box.
3. Enter Gina Pomponio's first and last name, and select her as your hostess.
That's it! If you have any questions about the jewelry feel free to email jseverydayfashion@gmail.com. Happy Holidays!