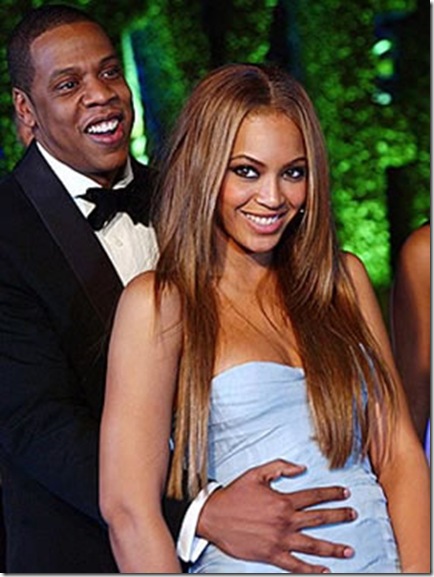 Baby Blue is here! Baby Blue is here!
Beyonce, 30, gave birth to a baby girl at Lenox Hill Hospital (Ha! coincidentally where I was born!) in New York on Saturday, all reports stated that "baby and mom are doing just fine."  Some reports even mentioned that the superstar gave birth via C-section.
PHOTOS: Beyonce's baby bump style
The couple chose "Ivy" because of the significance of the number "4" or "IV," —  Beyonce and Jay-Z were born on Sept. 4 and Dec. 4, respectively, were married on April 4, 2008, and Beyonce's latest album is entitled 4.)
It's the first child for the sexy singer and hip-hop mogul Jay-Z (real name: Shawn Carter), 42.
Don't believe the reports on Baby Ivy? See which famous stars confirm the big news after the jump….
Superstar pal Rihanna, who tweeted Saturday, "Welcome to the world princess Carter! Love Aunty Rih."
"Welcome to the world, Blue," Beyonce and Jay-Z's close friend Gwyneth Paltrow tweeted Sunday. "We love you already."  The actress also answered a "confused" fan who asked if the infant's name is "Ivy Blue or Blue Ivy," saying, "It's Blue Ivy!'
Fellow hip hop icon Russell Simmons also wrote: "Congrats to my good friends Beyonce and Jay-Z."
What do you think of the name Blue Ivy?