What's not to love about POSH mom Victoria Beckham….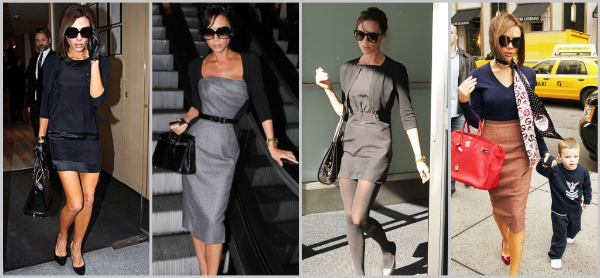 Confident. Chic. Powerful. Three words which best describes the wife to soccer sensation, David Beckham, mom of four – Brooklyn, Romeo, Cruz, and Harper – fashion designer, businesswoman and ex-Spice Girl makes Victoria Beckham, 39 the POSHest mom we will ever know.
Svelte fashionista, Victoria "Posh" Beckham has a style that we can't help but drool over..Looking feminine, sophisticated is her trademark. Victoria has said that "style never goes out of fashion"..So with the help these tips you to can can emmulate this mommyista:
Accenuate your shape with a pencil skirt or tailor your clothes for a fitted look.
Carry an oversized handbag. Carry your essentials as well as your baby's toiletries all in one bag (a great reason to splurge on a designer bag), this will give you more access to holding your precious cargo – your baby!
Know what look flatters your body. Keep it simple but, yet stylish.
Always wear sunglasses and a coat of lipgloss…it gives an illusion of sophisication and adds a pop of glow to your everyday look.
Get a hair cut that is manageable, but yet sexy and can be worn for every occasion.
And most all – be confident and unique!