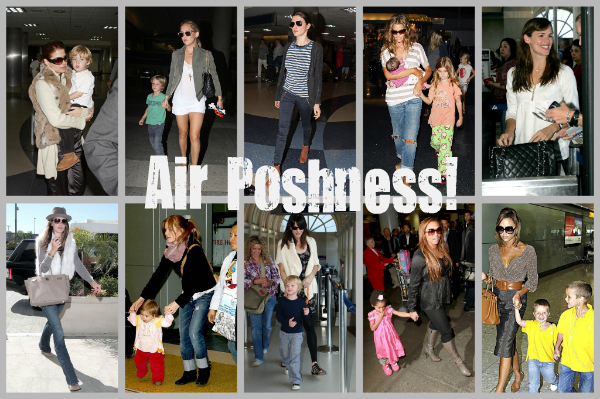 Holidays are long gone and I'm in need of a getaway…pronto!  So with a few clicks of the key stroke I was able to book my first ever family vacation (a little more on that later!) so what better way to fantasize about what to wear than to look to my favorite celebrity mommyistas… From casual Isla Fisher to POSH Victoria Beckham, these fashionistas sure know how to keep it trendy and chic while getting ready to jet off to their favorite destinations. So no matter what, remember to keep it casual but smart and ensure that you have just the right accessories in tow (besides baby, of course!).
Photos: (Top L-R) Debra Messing, Kate Hudson, Rachel Weisz, Denise Richards and Jennifer Garner (Bottom L-R) Alessandra Ambrosio, Isla Fisher, Liv Tyler, Mel B and Victoria Beckham
Top 10 basic travel essentials: 
1. Ride On Carry On for Toddlers, Amazon, $40
2. Ballet Flats, Tory Burch, $195
3. Kindle, Amazon, $79
4. iPad Case, My Stella & Dot Website, $79
5. Jewlery Carrying Case, My Stella & Dot Website, $98
6. Burt's Bees Essential Kit, Amazon, $10
7. Vitamin E Facial Spray, Amazon, $12
8. Longchamp Tote Bag, Amazon, $100
9. Pashmina Wrap, Amazon, $13
10. Juicy Couture Track Suit, Amazon, $98
What are your travel essentials?