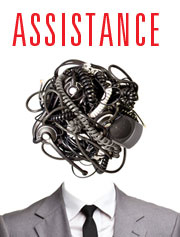 Over the past weekend, the hubby and I headed to Playwrights Horizons Mainstage in Manhatten's theater district to see Assistance – for some much needed adult time.
The backstory is this: horrible bosses! No workplace is fit to stage without one hell of a horrible boss, so consumed by entitlement he is blinded by how he treats and speaks to his "subordinates"…sounds familiar?  Written by Leslye Headland, the play features a talented young cast.
For these young assistants, life is an endless series of humiliations. In rare moments when the boss isn't phoning in for over the top demands, Nick and Nora (the main cast of characters) and their traumatized co-workers question whether all their work will lead to success — or just more work.
This 60 minute play was a AHA! moment for me…as I too had once asked myself "is my job my life?" or "If I do this one project I'll surely get recognized"…only later, after much needed soul searching did I learn that none of that mattered and didn't feel the need to sell myself to the devil along the way.
{Disclosure: I received tickets to this performance via MamaDrama in order to facilitate this review. All opinions expressed herein are my own.}