Congrats on your pregnancy!  So, you signed up for prenatal yoga, dragged your partner to child birthing classes and asked several of your mommy friends for breastfeeding tips, but wait there's one more aspect that you may have forgotten…..looking glam during your delivery!  Just take it from new POSH mommy, Beyonce, who revealed in People Magazine her predelivery primping for Baby Blue Ivy.
Related Post:  The Evolution of Beyonce's Baby Bump 
I did have a fresh eyebrow wax . . . I got my nails done, I got my feet done, had my hair done, and I had my little lip gloss . . . I didn't feel that I looked beautiful during birth, but who does? After being pumped with all those fluids and gaining so much weight . . . I barely recognized myself.
Preparing for the arrival of your newborn can leave you feeling a bit anxious, so why not get a little glammed right before the late night feedings begin?  Before Lil B's birth, I got my hair colored (which was deemed safe in the third trimester) and blown out, visited the nail salon, shaved my legs and got a bikini wax.  Not only did it feel good to have some "me" time before motherhood, but it wasn't such a big deal when I was being photographed without makeup (which I knew would be shared with co-workers, friends and family).
Here's a few more tips to do before giving birth….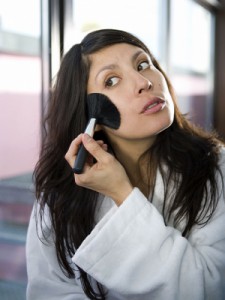 Get a prenatal massage.
Prevent stretch marks.  Massaging oil onto your belly every night, trust me it works!  Try Bio-Oil ($10)
Gert a head-to-toe beauty makeover.  Besides getting a mani and pedi, schedule a hair cut, it make it easier  to care for after baby comes.
Get a wax.  Do a little "landscapping" down below, get a eyebrow wax and shave/wax those legs.
Don't forget to carry your lipgloss, coat of nail polish and concealor in your overnight bag.  You'll thank me when its picture time!
Cover up, fashionably!  Invest in a hosptial maternity gown (which you can also have monogramed).  Hot Mamas Gowns ($90)