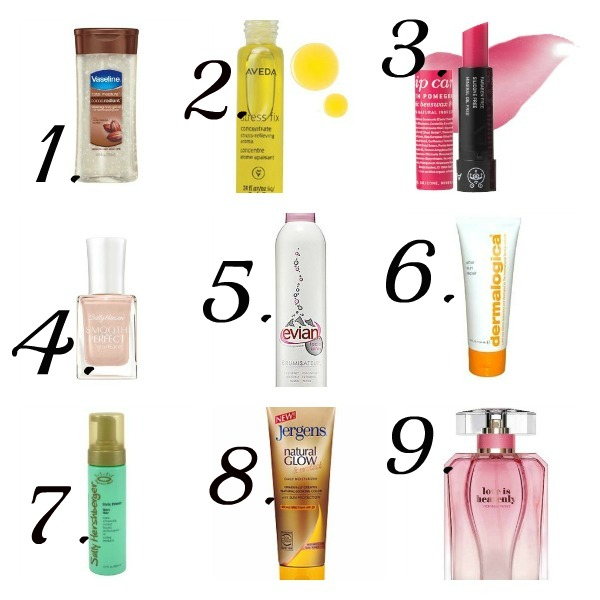 1. Vaseline Coca Radiant Vitalizing Gel Body Oil, Pack of 3, $21.95: Replenishes skin and locks in moisture.  Best used after bathing.
2. Aveda Stress Fix,.24 oz, $25: It is a tiny vial of essential oils that smell so 
good it is hard to pick out specifics, beyond lavender and maybe 
a jasmine or a honeysuckle—cannot be argued with. It is completely and utterly and unstressfully relaxing.
3. Apivita Lip Care, $7: This sheer tinted balm made with organic beeswax and olive oil is thick enough to really moisturize, matte enough that your hair will not get stuck in it, tinted enough to make a difference, pomegranate scented and sweet-tasting.
4. Sally Hansen Smooth Perfect Color Care in Dune, $5.50: The perfect pale pink.
5. Large Mineral Water Spray, $16.95: If you keep your skin moist during extremely hot weather, it'll prevent heat rash and other skin irritations. When it's hot outside we tend to sweat underneath our skin, which can lead to breakouts. I always keep a mini bottle of this with me.
6. Dermalogica After Sun Repair, $32.: Make sure you use extra moisturizer after a day at the beach—it won't undo sun damage, but it'll always makes things better (not worse).
7. Sally Hershberger Wave Spray, Wavy Hair, $13.59: Beachy waves—get them with a spritz of this.
8. Jergen's Natural Glow, SPF 20, $8.49: Forget about those streaky self-tanners. This gradual tanning lotion really works and now it comes in SPF 20.
9. Victoria's Secret Love Is Heavenly Eau De Parfum, $42: Switch up your fragrance to something fresh and, well, summery.
Disclosure: I was not compensated for this post. I have used these products a dozen times and can't help but spread the word on these awesome finds. All opinions expressed herein are my own.