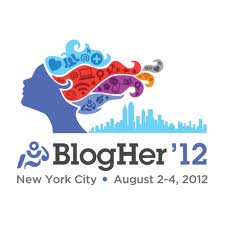 I was filled with anticipation all year for the impending arrival of BlogHer '12 and now its over.  As the saying goes all good things must come to an end. But this is by far the end for me, its a start to new beginnings.  I met some amazing bloggers (some finally in person, others I will forever follow).
If you never attended or think of attending the next one (Chicago in 2013) know this one thing….– its CRAZY!!!
I am no virgin to conferences, but this one is like no other.  From out-of-towners, stay at home moms, working moms, a few sprinkles of daddy bloggers, parties, networking events, sponsors that we vie the attention of and of course the other 3,000+ women there, geez this is an event not to be reckoned with.
Arriving at the meeting location (The Hilton) at 9a to attend the first session at 9:30a, I was immediately overwhelmed with bloggers trying to find a spot to listen in on the session titled "Advance SEO for Bloggers". By 9:15a it was standing room only, so folks ended up sitting on the floor.  Um, did BlogHer not get the attendee list???!! Did they not anticipate such an overwhelming response to their sessions?
 Then after getting kicked out "Video Blogging Part 1 and 2" I decided to use my time wisely and meet with some of my favorites sponsors.  I especially was very excited to visit my Stella & Dot family, as you know I have been an Independent Stylist for S&D since last December, so meeting the corporate office PR team was like meeting rock-stars.
Wearing clothes that were super comfortable is indeed a must a BlogHer.  From running around to trying to catch the next session or standing in line to visit your favorite sponsor, look to wear what works and attire that can take you from day to night in seconds.
What I wore:
Dress: BCBG, $65
Jacket: H&M, $29.95
Shoes: Flats By Ivanka Trump, $88
Necklace: The Olivia Bib Necklace, Shop my Stella & Dot Website
Ring: The Geneve Lace Ring, $59, My Stella & Dot Website
Earrings: Gigi Studs, $24, My Stella & Dot Website
Bracelet: Serpent Bangle, $34.30, My Stella & Dot Website
Since I only attended the third and last day of the conference, I was particularly intrigued to engage in the lunch keynote featuring Katie Couric and the session "Women Influencers as Change Agents Keynote" with Soledad O'Brien, Christy Turlington Burns and Malaak Compton-Rock. We love when O'brien said, "Women are able to leverage their advantages to help other women".
I did not indulge in any of the after hours parties (more on that later), nonetheless it was all very exciting to be amongst a groups of people that share your interest and looking for new and innovative ideas to grow their business.  And if you do decide to go next year, remember its ok not to attend everything and you probably won't get to talk to everyone you want to meet.  That's okay. That's what business cards are for.
Pros of BlogHer:
Networking
Panelist
Sponsors
Massive overload of how-tos in blogging
Cons of BlogHer:
Goodie Bag
Lack of security + no BlogHer representatives for on hand questions
Small rooms for sessions
All in all, I did come home feeling inspired to take MommyPosh to the next level. So stay tuned for new and exciting things to come your way over the next few months. Attended BlogHer? Leave your comment below and share with us your experience.