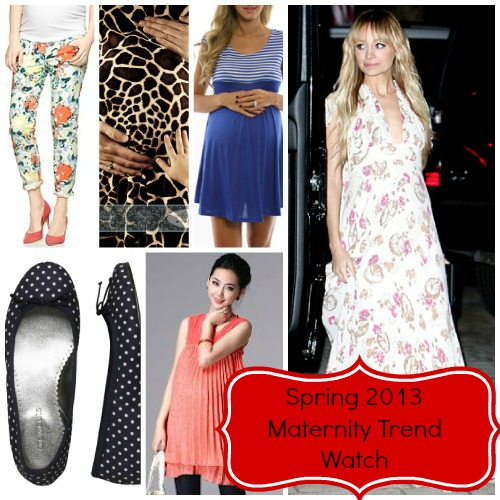 This Spring, its all about bright hues, florals and most importantly comfort, so for all you moms-to-be out there, here are few pieces that every mom-to-be should think about when shopping…It will leave you feeling and looking like one hot mama-to-be.
1. Spring is brighter than ever – Don't expect a day-glo orange, but rather a matte version that looks just as polished. Cue to Beyonce's big reveal at the 2011 VMAs, who flaunted her baby bump in a fiery orange one-shoulder wrap dress.  (Try: Jules & Jim Women's Maternity Sleeve Less Dress With Belt, $57)
2. So technically this isn't a maternity dress, but a maxi dress is an essential piece for every mom-to-be. Not only is a maxi-dress comfy and stylish, but can worn from day to night. Pair it with a (sensible!) pair of heels or ballet flats to complete the look. (Try: Jessica Simpson Maxi Dress, $52.50)
3. Floral prints are big this season and its the perfect addition to any Spring wardrobe, try on a pair of floral maternity pants and/or top for an added feminine touch. (Try: Gap 1969 Floral Leggings, $69.95)
4. There were a lot of prints on the runways for spring 2013. Pretty floral prints, exotic prints and classic polka dots are just a few of the many prints that sprinkled the runways.
5. Colorblocking dresses continue to be on trend this Spring. Mix and match colorful separates to create a cheerful combination worthy of a bright Spring day. (Try: NOM Cece Tier Dress, $98)
Which maternity trends are you planning to indulge in this season?