Today Fashionable Friday is from guest blogger, Julie Wilson.  Julie Wilson writes regular features and articles for Crave Maternity – the premium stylish maternity clothing website for the pregnant woman who wants to stay in style.
How To Plan Your Maternity Wardrobe
Choosing maternity wear is not a lot different to choosing normal clothes, but you do need to think more about how clothes will look once your bump has grown. You also need to think about comfort. Cotton separates, flowing dresses and comfortable loungewear is the way to go if you really want to relax into your pregnancy and thankfully there is a lot of maternity wear on the market that fits the bill perfectly.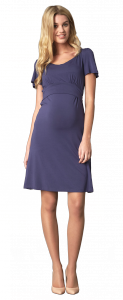 You might want to make a list of all the items you will need in your maternity wear wardrobe. Here is a list to start you off, but you are sure to think of other items as you go along.
Plenty of comfortable cotton tops.
Nursing vests and tops.
Dresses in a variety of lengths.
Comfortable trousers with expandable waistlines.
Leggings that go over your bump.
Tights that go over your bump.
Comfortable flat or low heeled shoes.
Slippers and comfortable nightwear.
Lightweight cardigans for wearing around the house or on a summer day.
Those are just some ideas of the kinds of maternity wear you will need. You will also need to completely overhaul your underwear collection – thongs are definitely out for now! You may not need to worry about maternity wear to start with and in fact, many women don't need to update their wardrobe until the start of the 2nd trimester at least.
Related Post: Get The Look: Casual Maternity Style
The good thing if you are trying to budget is that you don't have to buy everything in one go. A few tops and some leggings will probably do you okay until your bump grows and your shape changes more. And the nursing tops don't need to be bought until you are well into your third trimester and thinking about packing your hospital bag. Just look at your wardrobe now as you might have items in there that have become too big that will see you through the first stage of pregnancy just fine. You really do not need to spend a fortune.
Related Post: 5 Spring Maternity Must Haves
There are some great maternity wear retailers trading online today and it has never been so easy for pregnant women to stock up on the essentials. There was a time when all women had was Mothercare and a few tent-like creations that would cover every inch of their bodies. Thankfully, those days are over!
You can shop easy for the latest stylish maternity wear from the comfort of your own home and choose the items you want in complete confidence. And those items that arrive that don't fit the bill can be sent back easily.
To find out more about the maternity wear available online search online for some of the best pieces available. Keep your list to hand and you'll have your maternity wardrobe kitted out in no time. There are so many great brands and retailers available that you will have a great time finding the right items.