"Bless your heart"…for having mommy-me time?? After Lil' B was born, I was dying for some ME time…and I am not talking about uninterrupted bathroom break, nope, I needed a weekend getaway with the gals, sans the family…So when I presented this little getaway escape, a few a of my mom friends gasp and not with delight, but with shock and horror and refusal of wanting to leave their precious cargo overnight.  As my patience wore thin, I argued how the husband would take care of kids, how much this is needed, blah blah blah, one would have thought that I was asking them to give up a year of being a mom..even though at times that would be nice…kidding!  But seriously, is there a crime for wanting a break away from the family??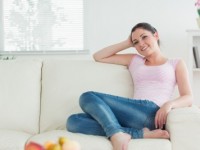 Ok, so maybe a weekend getaway was a little too far fetched for some moms, that's OK, but remember that being a POSH mom is a state of mind, so being able to carve out some "Mom-Me" time to recharge your batteries is necessary, not only for yourself, but for your family.
It's pretty obvious that slicing out some time just for you, a time to recharge and de-stress, is not an easy task. Here are just a few suggestions that works for me:
Listen to your favorite music and have a dance party – at home!
Get a pedicure or take a long bath.  No interruptions allowed.
Take a walk, even if you have to push a baby carriage. The fresh air will be relaxing for both you and baby.
Assign one night of dinner preparation to your husband.
Simplify whatever you can. For example: weed out the clothes in your closet to just the things you really wear. It will make getting dressed quicker and easier.
And finally, sit back, relax and tune into a new reality show airing on Lifetime called Pretty Wicked Moms, you may find it similar to The Real Housewives franchise except that these women all have young children.
Pretty Wicked Moms is set in Atlanta and let me tell you its definitely MUST SEE TV.  See for yourselves.
Tune in to watch parenting like you've never seen before with the first episode of Pretty Wicked Moms on Tuesday, June 4, at 10:00 pm ET/PT on Lifetime
FTC DISCLOSURE REQUIREMENT Mommy Posh aims to provide unbiased editorials. However, I wish to disclose that from time to time I may receive free products or other compensation from companies for blogger reviews.