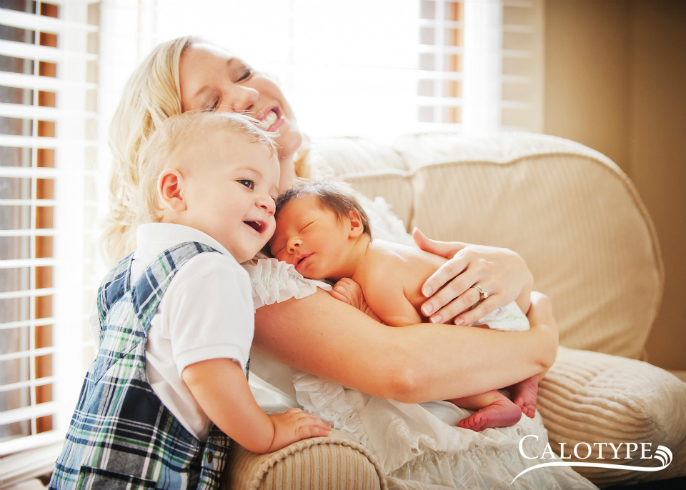 Today's guest post is from Kate, a thirty something SAHM to a 21 month old boy and 8 month old girl. Kate and her husband are proof that blind dates do work out. They have been married since 2006 and enjoyed the first few years of marriage traveling and experiencing life. They then had a difficult three and a half year struggle to have a family and is now a lucky and extremely a busy Momma of babies that are 13 months apart. Kate started The Sticky Mom blog as a way to stay sane. Kate needed an outlet for creativity and to share all the smiles, laughs, and even tears that go along with being a Mom. The Sticky Mom blog explores the challenges of being everything to everyone.
Read Kate's post on how she is able to balance it all…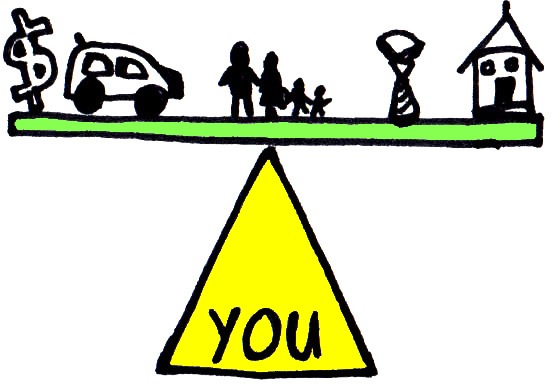 Balance…what does that mean? As a mom of two babies, thirteen months apart, I'm not sure I could tell you. I'm in survival mode most days. You see, I have my hands full. At least, that's the comment I hear every time I go anywhere with my double stroller. Yes, I do, and thank you for pointing that out.
My husband and I tried to have babies for years. We finally got pregnant with our son and were surprised but lucky enough to give birth to a beautiful girl 13 months later. Having babies thirteen months apart is a challenge. I have been breastfeeding or pregnant for the last 34 months straight. Wow, now that's a shocking number!
I wasn't prepared for the guilt that came along with being a mom and trying to do it all. I learned something really quickly; no matter how hard I tried, it's still going to look like Toys R' Us exploded in our house. What I learned about balancing the house and taking care of the kids is that… something's gotta give. What I mean by that is, sometimes we don't have enough hands to do it all, and we need to be ok with that. So, yes, it may take me a week to wash, dry, and put away the laundry. Or actually wash twice because it sat too long… and you know what I'm saying. It's ok and it doesn't make me a bad person. I know that above anything else my children are growing up way to fast. They are never going to tell me the last time they are going to do something…I don't want to miss it because I was obsessed with keeping my house perfect.
For me, the biggest struggle with balance isn't checking off the to do list. The biggest balancing act is playing the role of mother, wife, and most importantly a woman. We put all of our energy and attention into our children. We love our little ones unconditionally and would go to the ends of the earth for them. We need to realize one of the best things we can do for our children is take some time for ourselves. Dump the guilt; there is nothing wrong with feeling or knowing that you need a break. I have to say this is what I've struggled with the most. I felt like I wasn't doing my job unless I did it all and did it well.
I can't let my role as a mother make me neglect my relationship with my husband, either. I don't want to look at my husband someday and not have anything to say to him. Before becoming a mother, I would see couples raise their kids, seemingly happy, and file for divorce when their kids graduated high school. I always wondered how that was possible. I realize now, how extremely easy it is to get into that situation. I'm exhausted…mentally and physically most days. It's difficult to muster the energy or find the time to reconnect. We are working on this. I've learned from talking to others that it is something at which you'll always have to work.
So through all our roles that we play, balance, or some semblance thereof, is the only way to survive it. If you don't find some sort of balance you may lose yourself or your mind, whichever comes first. I can only listen to Thomas the Train so many times before I feel like I am dumbed down. I need outside interaction from someone who's not singing 'there's two, there's four, there's six, there's eight.' Harry the bunny, VocabuLarry, and the Thomas theme song haunt my dreams. I'd rather be dreaming of Ryan Gosling.
So, I've made it my goal to maintain more balance. I need to schedule massages, lunches with girlfriends, and dates with my husband to stay sane and still feel like a woman. It's ok to admit that. As I've discovered, most other mothers (if not all of them) feel the same way. We are so much to so many others that we can lose ourselves along the way. We are better wives, mothers, and women if we take that time for ourselves.