You thought that shift dresses were only good for work!? Well, think again. Shift dresses are timeless classics and universally flattering items that are so versatile that can be worn to almost any occasion. They were the favorite dresses worn by Twiggy and Jackie O in the past, who loved to wear them with geometric patterns and graphics, and they have been since then reinvented in many different ways.
All the stars are absolutely crazy about this type of dress, to the point that they love wearing it even on the red carpet and to important events. They have learned the trick that it all depends on how you accessorize it. So let's see how our favorite celebrities are wearing the shift dress…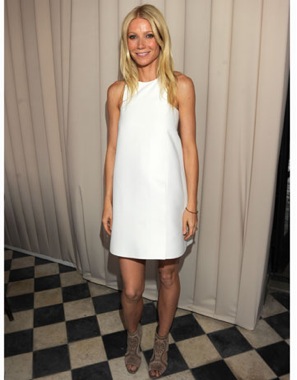 Gwyneth Paltrow via Harper's Bazaar
For us common mortals the most popular color for a shift dress is probably black aka LBD, but the stars prove us wrong by preferring to go for white instead. Actress/Mom, Gwyneth Paltrow looks stunning and elegant in this very simple white shift dress worn in a super natural way. No accessories needed in this case, just a pair of nude statement shoes. The hair is styled in beachy waves and barely any makeup. Really simple and effortless and definitely a hit!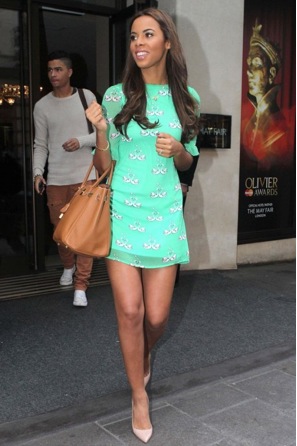 Rochelle Wiseman via Fashionbombdaily.com
English singer, actress and television presenter, Rochelle Wiseman shows us how a bright colored shift dress can become the perfect day dress. She is wearing this dress in a lime shade and decorated by cute prints with a pair of classy nude pumps and a tan maxi bag that is perfect for the daytime to contain all that you need. The fact that the neckline is really high and the sleeves quite long make it possible to go short with the hemline, which makes the outfit look really sexy but not vulgar.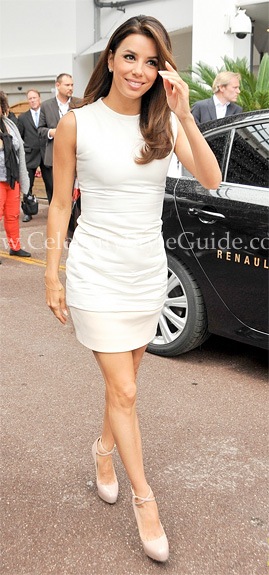 Eva Longoria via Celebrity Style Guide
Another white shift dress for Eva Longoria, who wears it in the daytime with a pair of sky-high stilettos with ankle straps. This time the dress is a bit more fitted and structured and it enhances her curvaceous body perfectly. Again, barely any accessory is needed and the hair and makeup is kept natural. A really classy look!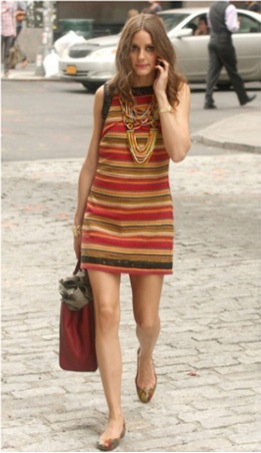 Olivia Palermo via Closet Cravings
Reality star, Olivia Palermo is always cutting-edge when it comes to fashion and style and she loves to dare. In this case she has gone for a multi-colored, ethnic-feel shift dress that is the perfect outfit for any daytime activity, from work to a shopping spree. She has completed the look with a pair of flats that pick up the earthy colors of the dress, a maxi bag, a chunky bracelet and a statement necklace.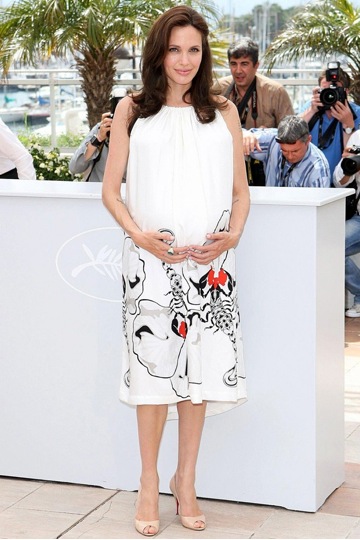 Angelina Jolie via Glamour Magazine
Even when you are pregnant a shift dress is a great solution! Angelina Jolie carries her baby bum with pride in a large shift dress with some fresh and summery prints on it. The dress is already a fashion statement by itself and therefore it does not need much more. She wears just a pair of nude Louboutins with it and her hair and makeup is left simple and natural.
************
About the Author:
Tiffany, a passionate writer, loves to write on Fashion, Family and saving money.