I didn't think that I could tolerate a guy that took pride in his looks, but I ended up marrying one. When I first started dating my hubby, a typical weekend for us was getting couple facials, massages and manicures, not only was it a bonding experience but, boy oh boy did I love the way he smelled after a day at the spa.
But now with two kids, who has time to relax let alone spend two hours at the spa…so thanks to the folks over at Mënaji Skincare my man can have the spa experience right at home.

Mënaji Skincare was established by a professional makeup artist for her male celebrity clientele — professionals who needed undetectable skincare/cosmetics for high-def TV/film/cinema, stage/concert, Red Carpet events, etc. (think actors, models, media professionals, musicians). Today Mënaji Skincare products are used whenever a man wants to look and feel his very best both professionally and in his personal life. Each product is formulated using the highest quality natural ingredients and is specifically created for a man's unique skin.
I was recently sent a set for the hubby to try out and he LOVES it!  He mentioned how his skin felt refreshed, smooth and healthy after a quick use of the product line.
So with Father's Day readily approaching why not give the gift that will make Dad feel more alive, energetic and ready to take on all the duties of being a Dad.
Related Post:  Cool Picks For Father's Day
To view the entire product line visit them on Facebook, Twitter and Pinterest.  
And as a little incentive to you to sign up and follow Mommy Posh on Facebook (we promise to follow you back), we are offering 5 lucky readers a Father's Day gift set — "The Basics" — it will come gift wrapped in masculine Mënaji tissue paper and includes three of their bestselling products.  We'll pick a winner on Monday, June 17.  Enter the giveaway via Rafflecopter below.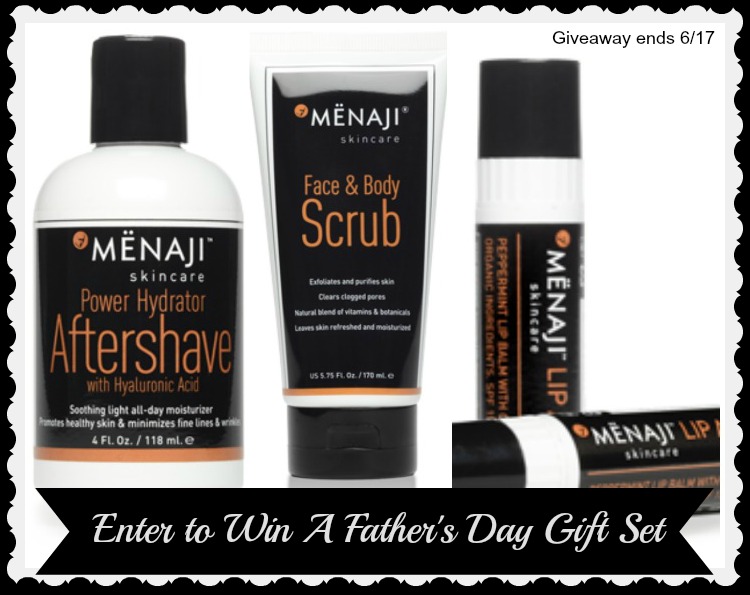 Disclaimer: I received complimentary products for review purposes.  Reviews are solely based on the opinions or MommyPosh.