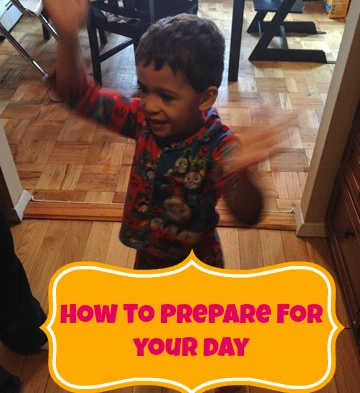 Lil B has tons of energy in the morning, so by feeding that fire with a solid breakfast is a solid way to ensure a great start to his day.  Living in an apartment and not having a backyard can sometimes make getting some quick outside time a challenge – especially in the winter.  Hard enough bringing a kid to the park when it is cold, but it is impossible when it is 5 degrees and snowing.  So we like to mix things up a bit and make staying fit part of our daily routine.  My husband and I are both athletic so it is important for us that our kids are also active, so plopping in front of the TV for a long period of time is just not an option.
So if you are looking for an early pick me up, that is not only easy, but super fun try out Tip #13: Fortune Telling from the Tips for a Great Start series from Team Kellogg's. 
Its a great way to develop a habit that will hopefully last for years to come.  The best way to make your kid want to do these exercises it not just telling them it's exercise time – you make it a game.  Luckily Kellogg's is making that easy by combining an old childhood favorite – the paper fortune teller.  When I was a kid in school we played this to find out which boy you liked or which boy liked you, but now we are using it to mix cereals like Kellogg's Rice Krispies and squats.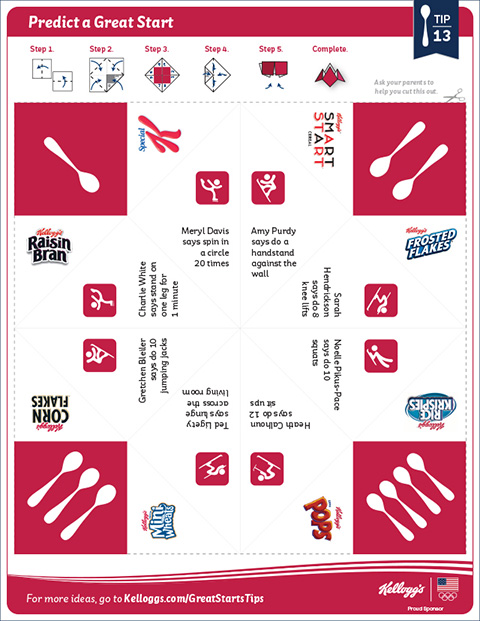 CLICK TO DOWNLOAD
To make these fun Kellogg's paper fortune teller you just have to print, cut and fold. I recommend using a heavier paper such as card stock, but standard copy paper will work just fine. Follow the diagram at the top and cut around the border to make a square. Fold according to the directions. My son was interested in this from the second it came out of the printer.  He got his hands on it and started counting spoons, calling our cereals and following along with the exercises.  It's never too early to develop a good healthy routine for yourself and your family.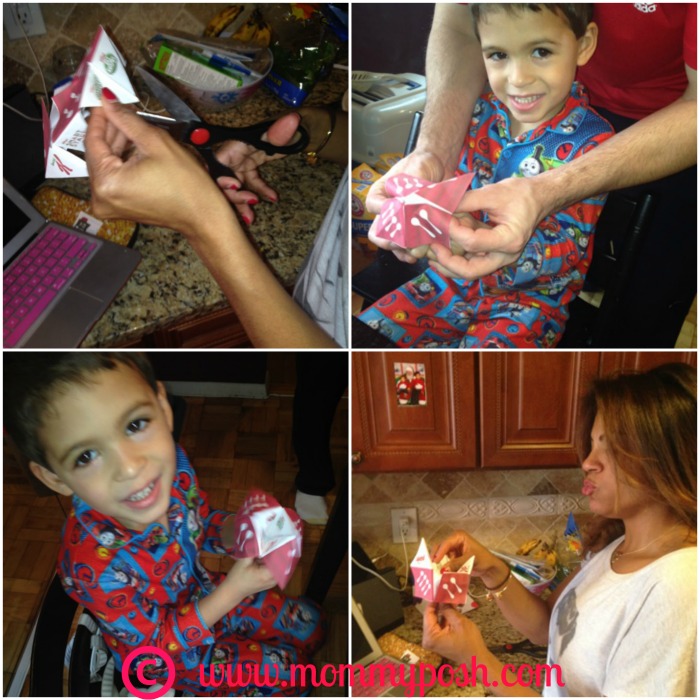 Who would have thought something so simple could make a four year old so happy?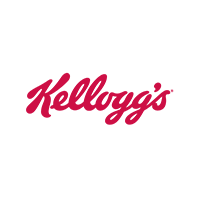 Do you like this paper fortune teller from Kellogg's? Be sure to check back over the next few weeks for more great tips, and check out Kelloggs.com/GreatStartsTips to see them all!
Kellogg's® believes that From Great Starts Come Great Things®. So we're helping Moms start every day with a tip from the top athletes of Team Kellogg's™ and Team USA dietitians. The thirty days leading up to the Sochi 2014 Olympic Winter Games will each feature fun pieces of advice to help families fuel just like the athletes of Team Kellogg's. To see all 30 tips, visit Kelloggs.com/GreatStartsTips
Compensation was provided by Kellogg's via Glam Media. The opinions expressed herein are those of the author and are not indicative of the opinions or positions of Kellogg's.