If you are looking for 30 minute or less recipes for the entire family or for meals that embodies clean eating, then be sure to check out Taylor Walker Fit.  Up on her blog is a yummy and easy recipe that includes my two favorite   Kale and Mangos, Kale and Mango Salad with Red Wine Vinaigrette.
Per Serving: Calories 269; Total Fat 17 grams; Saturated Fat 2.5 grams; Protein 6 grams; Total Carbohydrate 28 grams; Sugar: 14 grams; Fiber 4 grams; Cholesterol 0 milligrams; Sodium 170 milligrams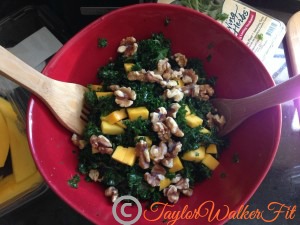 For a the entire recipe and more like these check out Taylor Walker Fit for more recipes.