Not sure what the miracle was…the fact that I was able to read my favorite magazine cover to cover or the special find that was featured inside the glossy pages. Guess you could say both!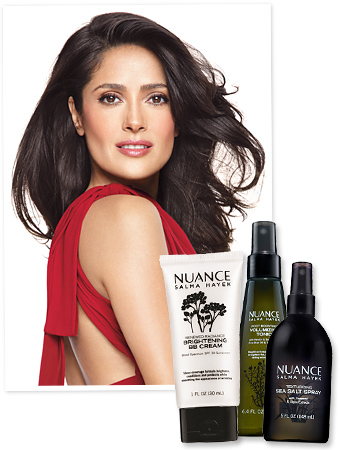 Inside the April issue of Instyle Magazine (with J Lo on the cover), I came across the "Beauty Talk" section which featured Salma Hayek's beauty secret…the 47-year-old beauty notes that the secret to her beauty is her addiction to her own products, Nuance ($20; cvs.com). How awesome is it to hear that a celebrity is actually "addicted" to their product line.
OK, now I am hooked.
It doesn't take me much for me to visit my local CVS, so when I learned that I could get a hold of these products in only a few steps to my home, I was psyched.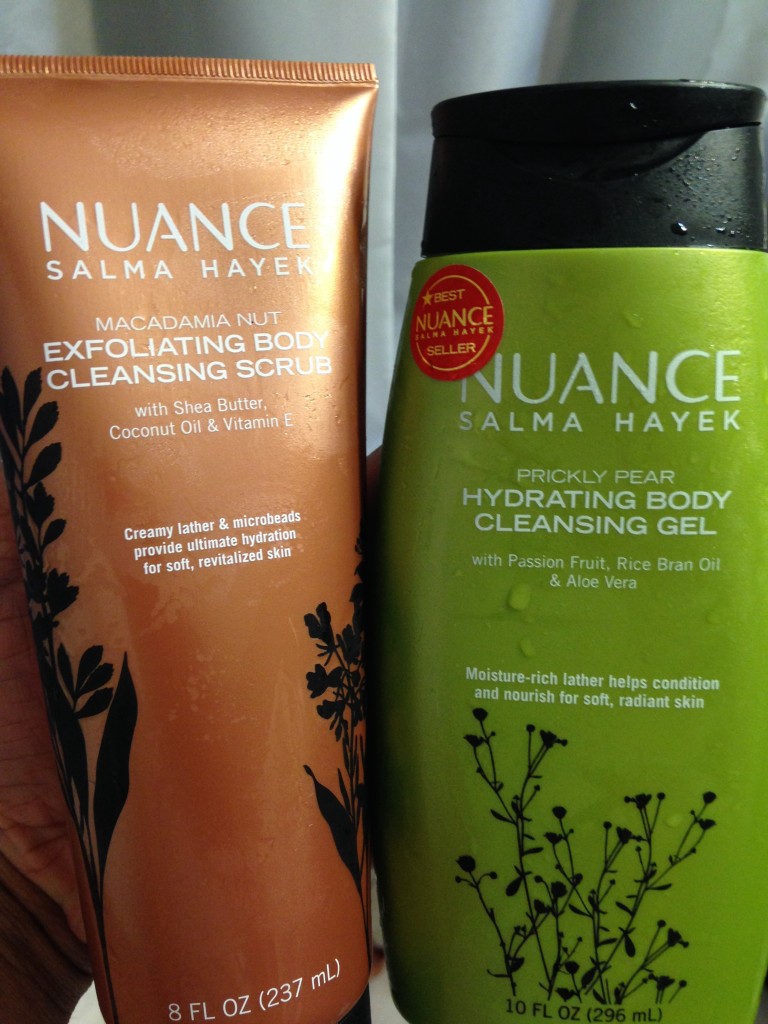 Taking care of my dry skin during the winter months is such a pain, so when I saw that her line had an Exfoliating Cleaning Scrub ($8.99) and Hydrating Body Cleansing Gel ($9.99) to help me battled my winter blues I was even more psyched.
So here's what I did when I got home:
I opened it.
I smelled it.
I lathered – no– luxuriated in it.
I felt my moisturized skin.
I will never use another bath exfoliate or gel, ever. I spent about $20.00 for these two containers. I promise you its worth the $20. Can't wait to purchase the rest of the line and try them all out.
So in doing my research I read that all the Nuance products range between $4.99 and $19.99, and the line includes: Nuance Salma Hayek Skincare: Products are specially formulated with natural fruit extracts and essential oils to address multiple skincare concerns like aging, loss of hydration, and uneven tone and texture. Nuance Salma Hayek Cosmetics: Include a full line of products for face, eyes, lips and nails in a palette of stunning shades. Advanced technology and fine ingredients create beautiful, endless, customized looks. Nuance Salma Hayek Hair Care: Products address the needs of all hair types with formulations for fine hair, dry hair and chemically treated hair. The line includes treatments that nourish, style and help protect for all-day, healthy- looking hair. Nuance Salma Hayek Body: Treatments combine nourishing botanicals and natural fruit extracts to help create more youthful, hydrated and radiant- looking skin.
This is not a sponsored post.  All opinions are soley of Mommy Posh.