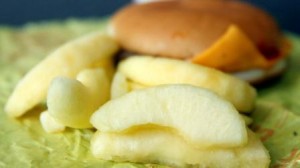 Ready Pac has issued a recall of almost 300,000 apple slice packages, which were distributed to nationwide retailers and fast food chains, including McDonald's and Burger King. The recalled apple slices may be contaminated with the bacteria Listeria monocytogenes. Affected packages include those with the use-by dates of July 8, 2012 through August 20, 2012.
Check the Ready Pac website for a full list of recalled product descriptions and use-by dates.
No illnesses have been reported, but listeria was found on equipment used to produce apple products by Missa Bay LLC, owned by Ready Pac Foods Inc. of Swedesboro, N.J.
If you have a package of the recalled apple slides, immediately dispose of them and contact Ready Pac Consumer Affairs Department at (800) 800-7822, Monday through Friday, 8 a.m. to 5 p.m. (Pacific Time) to get a full refund.