My fellow blogger friend over at FBFF, Suze of Miss Vinyl Ahoy, is hosting a photo post titled "WHERE DO YOU BLOG FROM?" I thought I'll get in on the fun, so that you my fellow readers, can get a glimpse at my blogging habitat.
My balcony.
With it being so warm out and during the hours that my son is napping, I find myself escaping only a few feet away from the indoors to blog and catch up on the happenings on the social network fronts.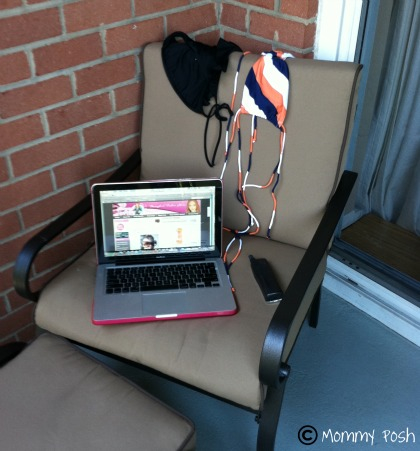 Do notice, that while I am writing to you each and every day, my phone is on hand, as well as my bikini…might as well get some sun rays while doing it all. Guess you can call me the "Bikini Mom Blogger".
To find the Linky for this post and visit other people's blogging spots, visit Miss Vinyl Ahoy by clicking HERE.
If you would like to join FBFF head over to Modly Chic and subscribe HERE.