Parents begin to enroll their kids in team sports as early as age 3 or 4 years old. Most parents believe that by doing so at such an early age, we are setting them up for success. By meeting new friends, developing confidence or simply for establishing a commitment to an active lifestyle. Most parents also believe that the focus should be on general movement and play, not learning specific sports skills.
My youngest, Tyler, at 3 years old playing soccer
We then begin seeing a shift at around 7 or 8 years old, where our kids are taking part in organized sports activity for competition. During these years, organized sports are teaching our kids accountability, teamwork and of course the concept of winning and losing.
[bctt tweet="Do Sports Count As Play? ? via @MommyPosh #GeniusofPlay" username=""]
My oldest, Blake, at 7 years old getting ready for a baseball game
Of course, in the end, we see how playing sports can bring joy and fulfillment to our kid's lives, but, in return, one may argue that unstructured play has decreased, or has it? Is there really a difference between play and sports? And are our children missing out on the overall play aspect when competition is involved?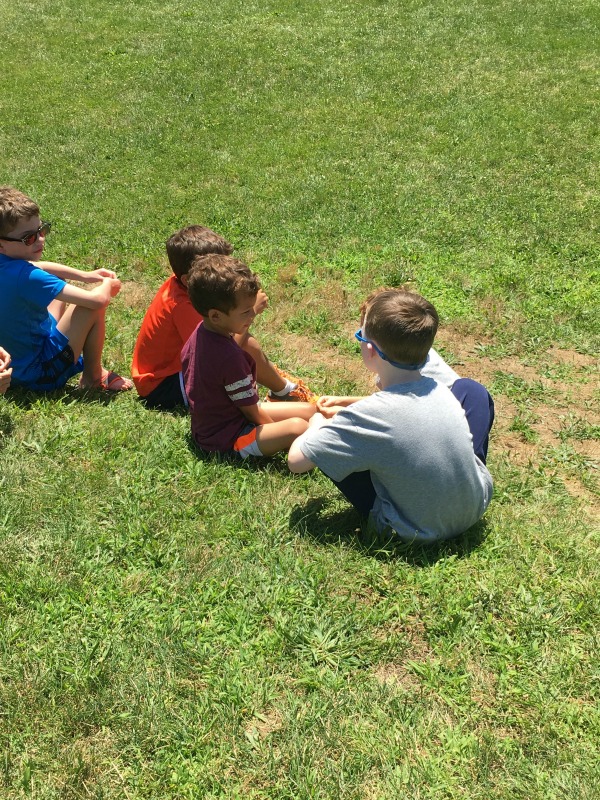 Once our kids take part in structured sports we begin to worry that our children are setting themselves up for a competitive lifestyle, a lifestyle where they need to succeed by any means necessary. Instead, by encouraging them to have fun and enjoy playing with their peers they can in turn allow them to lead a stress-free lifestyle.
Simply by working together to decide which game to play, what agreeable rules are, and how to manage scenarios that invariably involve differing perspectives really all constitutes as playing. Haven't you notice how excited your child's mood has become?  This is where we as parents; can see the similarities that playing sports is simply a disguise of play. Whether unstructured or structured.
So, instead of adding pressure to the game at play, parents must benefit from knowing that while our kids are playing together, they are building the social qualities that we all wish for: empathy, self-awareness, self-regulation, and flexibility.
With summer break, it can be a little challenging to head outside, for kids its so easy to catch up on TV shows or take out that electronic device. So instead, hide those electronic devices and sign up your kids up for summer activity. Check out your town rec center and sign up your child for summer programs.  This can improve motor skills, hand eye coordination all while keeping them active so that they can become students once the semester begins.
Share your opinion on Facebook and Twitter with #GeniusofPlay! And learn about all the benefits of play at http://www.thegeniusofplay.org/.
*NOTE: THIS IS A SPONSORED CONVERSATION WRITTEN ON BEHALF OF THE GENIUS AT PLAY CAMPAIGN. ALL THOUGHTS AND OPINIONS ARE COMPLETELY MY OWN. THE COMMISSIONS ARE USED TO KEEP MY BLOG RUNNING AND TO PROVIDE YOU WITH AWESOME CONTENT THAT I STRONGLY BELIEVE IN. THANK YOU FOR YOUR SUPPORT! XO MOMMYPOSH
f1df6a3d08a2c49cf2d5584280b65e74d9e17826b5a72b4143